1987 Oldsmobile Cutlass Supreme - FE3X Pro-touring project
Figured I'd post a build thread that I can update a little more easily than my first "welcome the newbie" post. LOL
Started off as just a repaint and fix a few rust issues. But, as we moved along the rust was a little more extensive and then we got into the "might-as-wells". Notched and boxed the frame to start, new body mounts, then I bought a rotisserie and worked on the bottom of the car.
Seven years later and it's really close. Still need a drive shaft, paint, finish interior along with tuning on the EFI more. Hoping to have it back on the road next year sometime *fingers crossed*
Engine:
Block - 1976 455 bored .060" over (468 cid)
2-bolt billet steel main caps, line bored
ARP main studs
Head bolt holed drilled and tapped for 1/2" head studs
Crank - Forged 425 steel crank, offset ground to 4.25" stroke and BBC rod journal
Rods - Manley aluminum 6.990" with ARP bolts
Pistons - Arias forged aluminum flat tops. 11.3:1 compression
Heads - Edelbrock Performer RPM with upgraded 2.120" int/1.710" exh. valves (under cut and swirl polished), Isky double valve springs, Harland Sharp aluminum roller rockers, Jomar stud girdles. Combustion chambers fully polished along with exhaust bowls and runners.
Camshaft - Crane Cams Hydraulic roller. 242/254 duration @ .050, .595"/.595" lift, 114LS. Comp Cams roller lifters, Manley 3/8" hardened pushrods.
Intake - Offenhauser Super-sonic (4500 Dominator flange) Modified for port EFI.
Throttle Body - Edelbrock 1600cfm Dominator flange
Fuel Injectors - Bosch 42lb/hr
ECM - Megasquirt v2.2 with fuel and ignition control
Ignition - Stock 307 electronic
Headers - Kook's 2" primary/3.5" collector, Jet-HOT coated. 3" dual exhaust with X- pipe and Spintech Pro-street mufflers
Oil System - Canton Racing Products road race oil pan, Melling blueprinted HV oil pump and pickup, diesel oil filter adapter, remote oil filter and Setrab oil cooler with -10AN braided lines.
Driveline
Transmission - T-56 6 speed out of '96 Camaro SS w/ Mcleod modular bellhousing
Clutch- Centerforce DFX
Rearend- Quick Performance Ford 9", Moser 31 spline axles, Detroit True- trac limited slip, 4.30 gear
Front Suspension
Wheels - 17x9.5" TTII Classics
Tires- Sumitomo HTR Z 245/45ZR17
SC&C Stage II kit - SPC lightweight adjustable upper control arms w/ racing bushings, HOWE racing ball joints, QA1 single adjustable coil over conversion shock with 550lb/in springs.
Stock lower control arms with Del-a-lum bushings.
36mm F-body front sway bar.
Grand Prix front frame brace
F-41 steering box
Brakes - Hydratech Braking hydroboost unit
C5 Corvette calipers with 12" LS1 F-body rotors
Rear Suspension
Wheels - 17x11" TTII Classics
Tires- Sumitomo HTR Z 315/35ZR17
Shocks - QA1 Single adjustable shocks
Springs- Moog F-body cargo coils
UCA's- Edelbrock double adjustable with spherical bearings
LCA's- Currie-trac control arms with spherical bearings and poly bushings
Sway bar- Spohn Pro-touring adjustable sway bar
Misc.- Fays2 Watts link
Brakes- LS1 calipers and 12" rotors
That's most of the important stuff. Everything else is cosmetic. FE3X front and rear fascia's along with fender flares. Monte SS rear spoiler, etc. etc.
Below are a few pictures of the build progress:
This essentially was where the car was two years ago: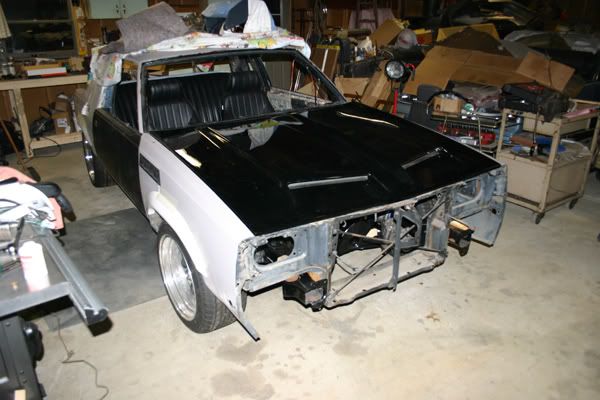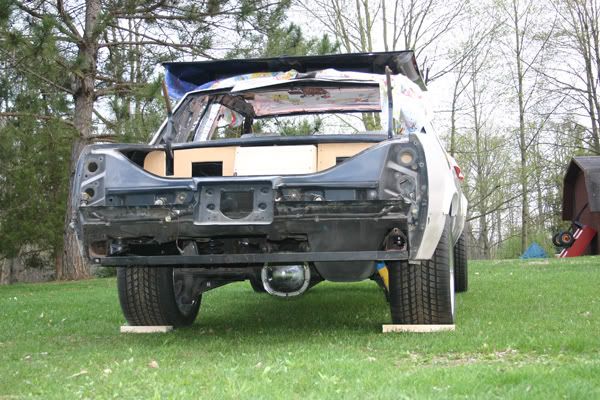 I thought I was close to having a driveable car until I tried to install the fuel and brake lines that we hadn't done before dropping the body back on the frame. DOH!
So off came the body again: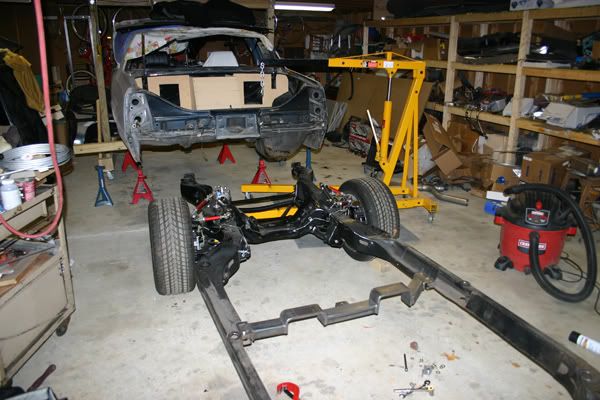 I also couldn't leave well enough alone and found a good deal on a body rotisserie so: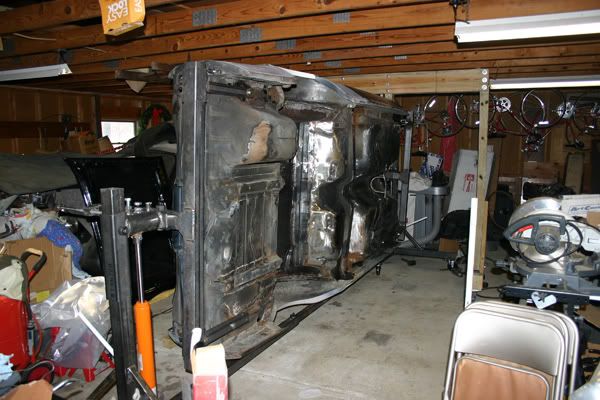 Which turned out to be a life saver for fixing the body mounts: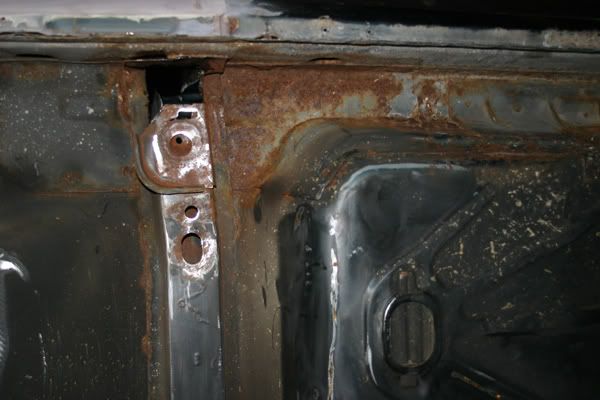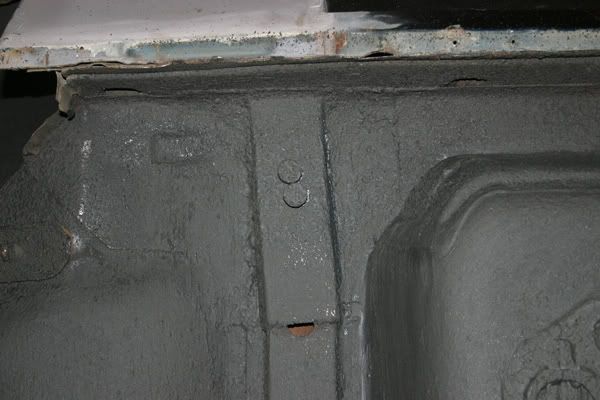 Entire underside:
Picture of the frame after painting and suspension reinstalled:
Body back on the frame:
Engine installed: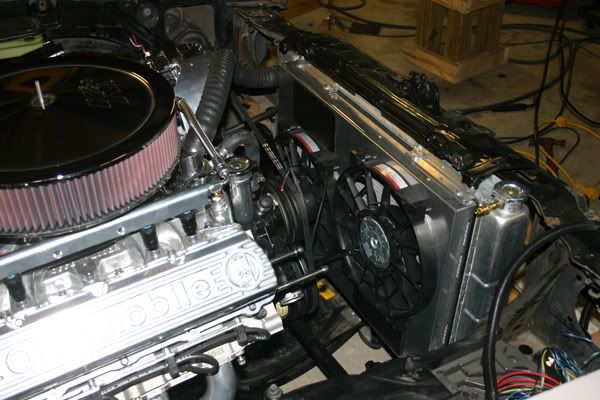 Test fit the trunk lid with a Monte SS spoiler:
And as of today, I finished painting my core support and powder coated my AC bracket: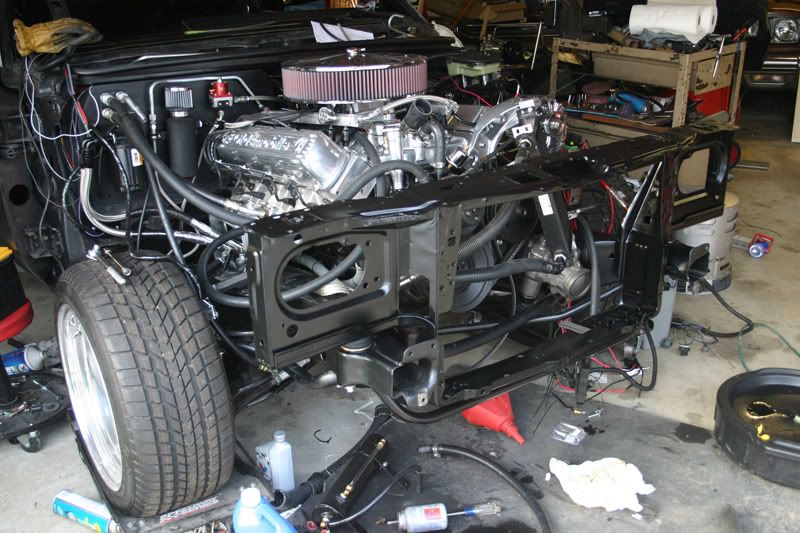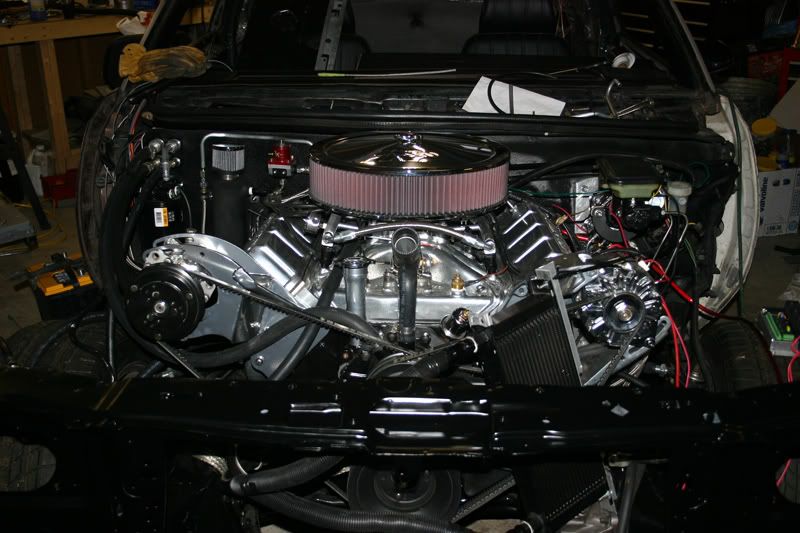 Couple of interior shots: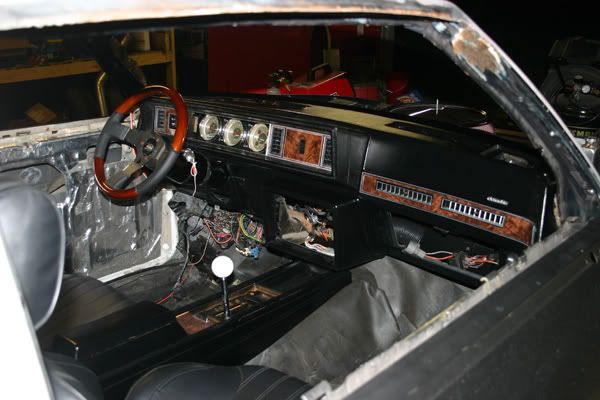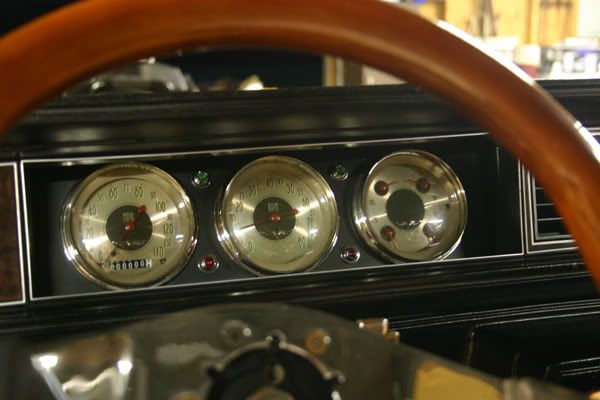 Picture of my Hot Rod Air aftermarket evaporator and my "custom" defrost vents:
What did was cut apart my original HVAC ductwork and then adapted the vents to work with the aftermarket hoses. This way everything should still work and look stock from the inside.
Here you can see the metal pieces I bent and attached to the backside of the dash so I could attach the hoses coming from the evaporator:
And lastly a picture of my door speaker pods. The system actually sounds pretty good. I wired everything up temporarily to test it out. Each door has a 6.5" woofer, 5.25" coaxial, 4" mid-bass and 1" tweeter. In the trunk I have a single 12" Kenwood sub, a JBL 600W mono amp powering the sub and two JBL 2 channel amps powering the interior speakers.
I modified my stock cassette deck so that I can connect an mp3 player to it and the sound quality is absolutely fantastic!
Well, thats it for now. Sorry for such a long post. I've covered most of this on other sites over the years and tried to condense it as much as possible. But now I have something I can add to as things come up.
Oh, forgot, here's a short video of me firing the engine up after getting the EFI running somewhat: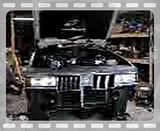 That's through the Spintech Prostreet mufflers but no X-pipe.
Here it is on the test stand with a carb and no mufflers: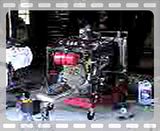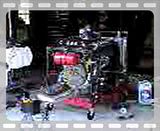 It sounds better in person considering the camcorders microphone was a little overwhelmed. lol