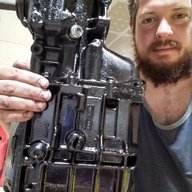 Pendejo
Supporting Member
I don't want to be "that guy" asking what the largest tire I can fit with a 15" wheel is without knowing any other spec.

But I guess here I am kind of doing that. I have some 15" x 8.5" aluminum wheels with a 3.75" backspace. I want to run the widest tires I can get away with using.

I might prefer all four to be the same size but would definitely consider running two different sized tires .