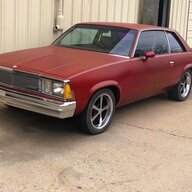 Comic Book Super Hero
Supporting Member
So in my quest to finish rekeying the wagon I jumped into doing the doors. I've only ever taken these apart, never a full re&re. The driver's side came apart and went together well enough.

The passenger side was full of surprises. First, the upper door panel wouldn't release from the door (so I was going in blind-ish). Second, and most importantly, after blindly popping off the lock retaining clip, I came to quickly realize the pawl (lock lever arm) was missing. It wasn't in the door (other interesting things were).

Might explain why I could never unlock the door with a key. Duh.
I can't remember, are they the flat ones like this?