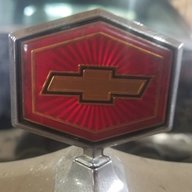 Greasemonkey
Thread starter
I was always interested in seeing how hard it would be to put an LED strip into the upper bed moulding. Thought about doing something in the rear window channel, but figured if there was ever a problem the adhesive would suck. Others have junkyard swapped brake lights on the inside of the glass. Reflection into the cab becomes a concern. Think the wagon guys found something that works. Not sure, maybe someone else will chime in.
The light we found isn't a perfect fit. It's a bit too tall to fit between the upper cab trim and the rear window trim. My plan is to mount it below the cab moulding, overlapping the rear window trim. It's not a perfect solution, but it will definitely be visible, which I suppose is the whole point. If we stumble across a really thin strip light that fits between the trim lines, I'm sure that would look better.
The key to ease of installation is the headliner. With the headliner out, the wiring is simple. With the headliner in, it would be a nightmare.