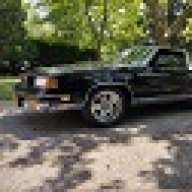 Greasemonkey
Supporting Member
1987 Oldsmobile Cutlass Salon finished in Black and Silver two-tone paint. Paint does show its age throughout the car, appears to be original and has been...
www.uniqueclassiccars.com
My first suspicious note is I thought all "Salons" had the amber front parking/turn lights in the bumper? I'm thinking these aren't the original?
Frame and body are heavily rusted, but interior is not horrible if someone needs lots of different pieces?
Wheels look ok, and quite rare to find. Video you can hear exhaust leak might just be the AIR injection pipes and/or check valves.