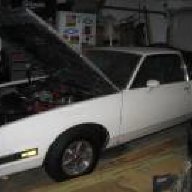 Grandprixpaul
Master Mechanic
I am a profession restoration and car builder all work has been done be me except engine and trans internals. Body is almost ready for prime everythimg is extreamly solid and runs great. 1,200 miles aproxamently on engine and trans. Car was from Tennessee and has never seen a michigan winter. Specs listed are off of paper work of engine and trans.
-Engine- 350 bore at 4.060in total vol, 360.4 ci.
dyno tested at 360 hp. was built at ross automotive machine inc, here in Michigan.
compression is 9.50. intake valve is 2.02 exhaust 1.6. wedge/ pocket porting,.
hyd. high performance street cam. high poilished aluminum manifold dual -plane.
new 100amp chrome tuff stuff alternator.
rebuilt carter 625 cfm comp carb.

exhaust - all new straight back. 2 1/2 inch mandrel bent pipe kit from summit and full length headers ceramic coated. with thrush welded mufflers,( they look like flowmaster) has a deep sound.

transmission- was built at Jackson performance transmissions, street strip, 2200 stall, borg warner and raybestos parts. hardened outer races extra clutches, built to chirp tires in each gear.shift kit, has ability to keep trans in any gear.
and a jegs crossmember. and polygraphite mount,

other- distributor was from speedway hei performance with a 50,000 coil. and adjustable vac advance. 8mm wires
lokar aluminum dipstick.
high torque starter and hd flexplate.
Large aluminum radiator.
Dual 12"electric fans
chrome adjustable fuel block with pressure gauge.
chrome trans dipstick.
gm performance centerbolt valve covers.
chrome 14in aircleaner
tires are like new mounted on stock Pontiac rally wheels 14x7
added the Pontiac sport wing to the trunk.
_

interior- gauge mounted on a-pillar has vacuum, and airfuel autometer gauges.
dash has oil pressure and water and volt in dash.
Large tach mounted in dash where clock was
.t
kill switch.
hurst console shifter custom made console top made from lexan. where the ashtray was I built it up and put five flip top toggle switches. only using one right not for front lower driving lights I put in
seats are still pretty firm but need to he dyed to match back and back seat is dry at the top of the seat.
it has a grant steering wheel on it in the pic but it will have the stock wheel back on it when sold.
aluminum column buttons and tilt.
new battery
all the unused wiring from the old engine was removed all the way back to the computer to clean up engine compartment and to ensure no shorts.
I do also have the chrome rear window trim.
.Can email or post any pics or data i have ,just ask. Text me. 3,500. 1-248-912-5315 leave a message. seats for the front no rips. Need to be dyed to.match already installed. Dyed passenger seat ready to install back .
.i will not call back numbers that dont leave a message. will get back to asap. Key words ,gn,gnx,regal,cutlass,cutlass supreame,monte carlo. g-body. g body.