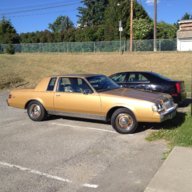 corkatoa
Burger Flipper
Supporting Member
Just picked this up today. Well bought it anyways. Engine was built by a good friend of mine 10 years ago and is a real 400 block with a scat crank, roller rockers, aluminium edelbrock heads, air gap intake etc. Made 380 rwhp in an 87 trans am.
Car seems pretty straight, no drivetrain but wiring and computer completely intact and labelled nicely. I have an lt1 intake and just need a few more parts for the engine. Will be needing a t56.
Passenger door is full of glass and there has been a small amount of bodywork behind drivers door. Solid underneath.
Interior not bad, but looks terrible. Will be covering those seats for sure.