EDIT: Silver car has been sold, replaced by a 2003 Black Cobra
Whats up guys!
So i have my 88 Monte Carlo on hold right now so i can revive my old car again. Link
Here
for those who want to check it out. This thread is going to be my sanity to where i show you all the progress/questions throughout the 3rd version of this build.
Little history behind the car:
Bought the car in high school, after college decided to put a v8 in it. 1st iteration was a N/A 6.0 with a Tick stage 2 t56 on stock ecu and a standalone harness i did myself tuned on HPtuners by me. Car ran a womping 2 months like this before i had the itch to go forced induction. That brings me to round 2 of the car... SBE 5.3 with a 7875 billet turbo, car put down a little over 600 rwhp corrected on 13lbs, still through the same t56. Found a local guy selling off his t boned cobra parts so i basically has a clone at this point of a 03/04 cobra. Ended up selling it just under 6 months later to pay off a lot of debt and buy my then gf a ring. Ended up not working out with here, and here i am now with a new lady and the guy who i sold the car to listed it for sale for a already decent price.. so i messaged him and we worked out a deal I could not refuse.
Car when i sold it:
Car when i bought it back:
The car got bought back as a roller, all of the cobra body panels were sold during the time with the guy i sold it to originally. The built rear end was sold, the holley dominator and all the wiring was sold.... however the fuel system was still there ~ Cobra Sumped fuel tank with twin 525 lph pumps, -10AN Fragola PTFE Hose, E85 Flex Sensor, Aeromotive FPR..
First things first, come up with a plan for the car.
Requirements:
1. 800-900 RWHP Street Car
2. Aftermaket ECU w/ Digital dash
3. Auto w/ t brake so the fiance can drive it
4. Roll cage and chassis supporting mods to be able to cert to 8.50's
5. Be a FOBRA again (last on the list but i will pick up parts slowly for it)
Got the car home, decided to completely strip it down and remove all the hacked up stuff between what i have done and what the guy who had it had done. The wiring was all messed up, there was actually house hold solid wire in it in some places (not by me). Crappy roll cage was cut out and removed (Mild steel, welded by blind men).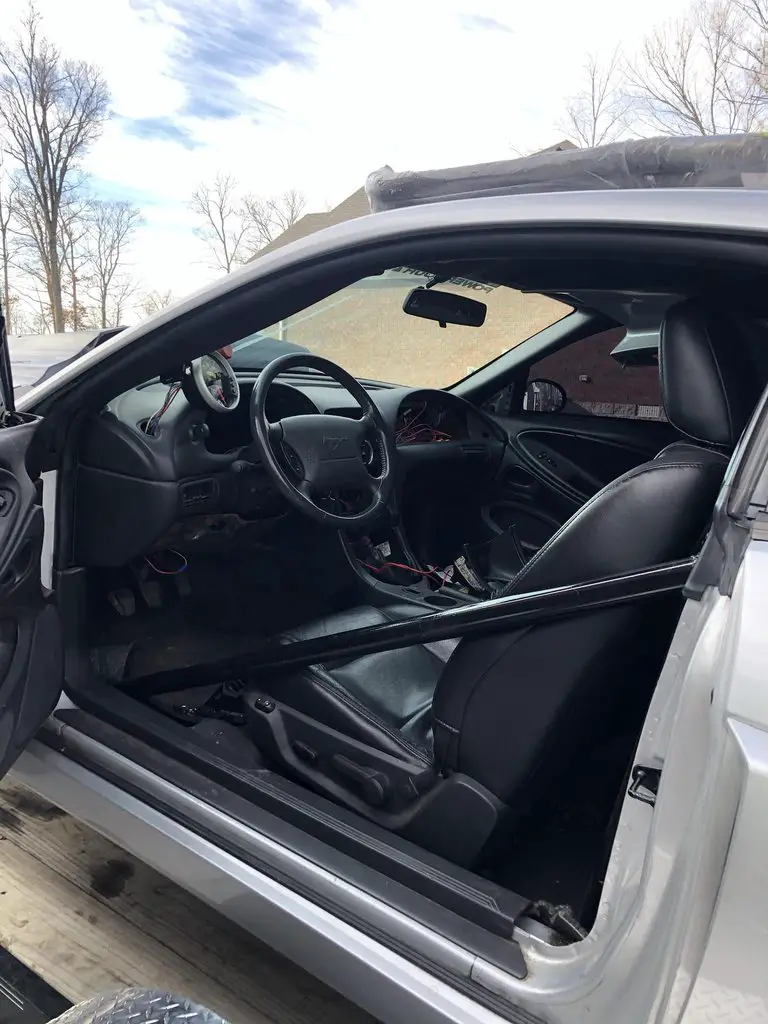 Car had a AC delete panel installed on it from me, decided since it will be a street car we need AC right? Removed the rivets and panels and patched those up. Sprayed a quick shot of black on it to keep from rusting or until i repaint the firewall back to body color.
Swapped over from a vacuum booster to hydro.
Removed the old dash, fixed all the cut up wiring and reinstalled the AC ducts.
Then started to try and think about how to mount and the turbo (FI S488). Ultimately ended up cutting off the front end forward of the shock mounts. This opens the mounting areas up a little more, as well as opens up for a lot of opportunities to route a number of things.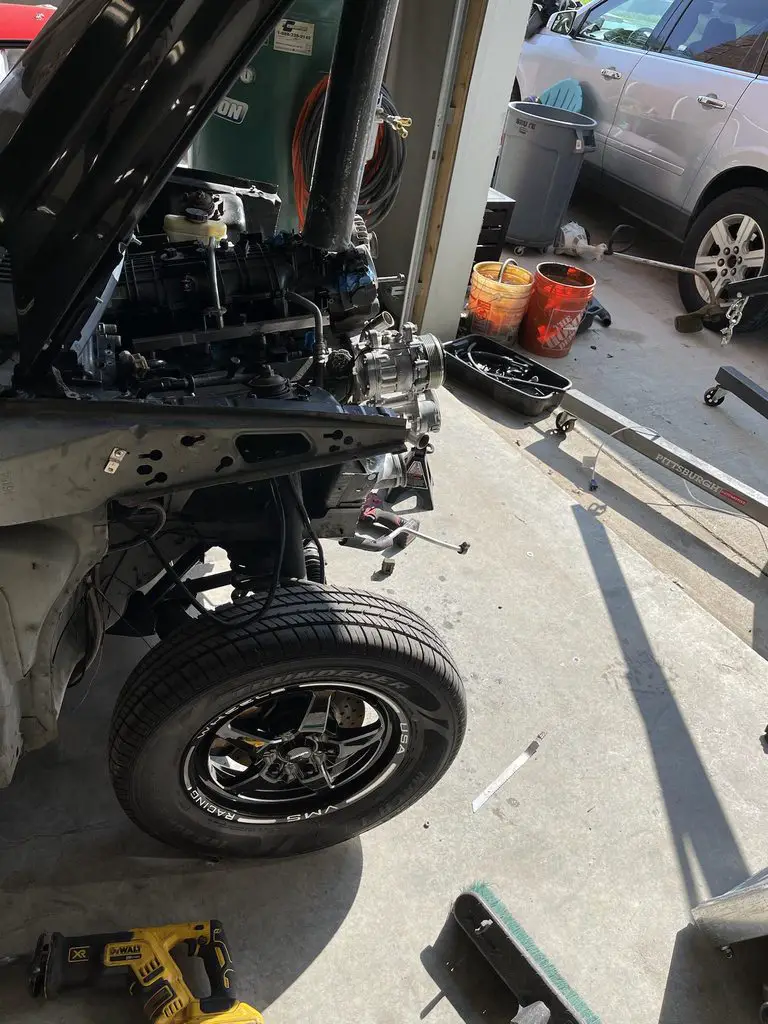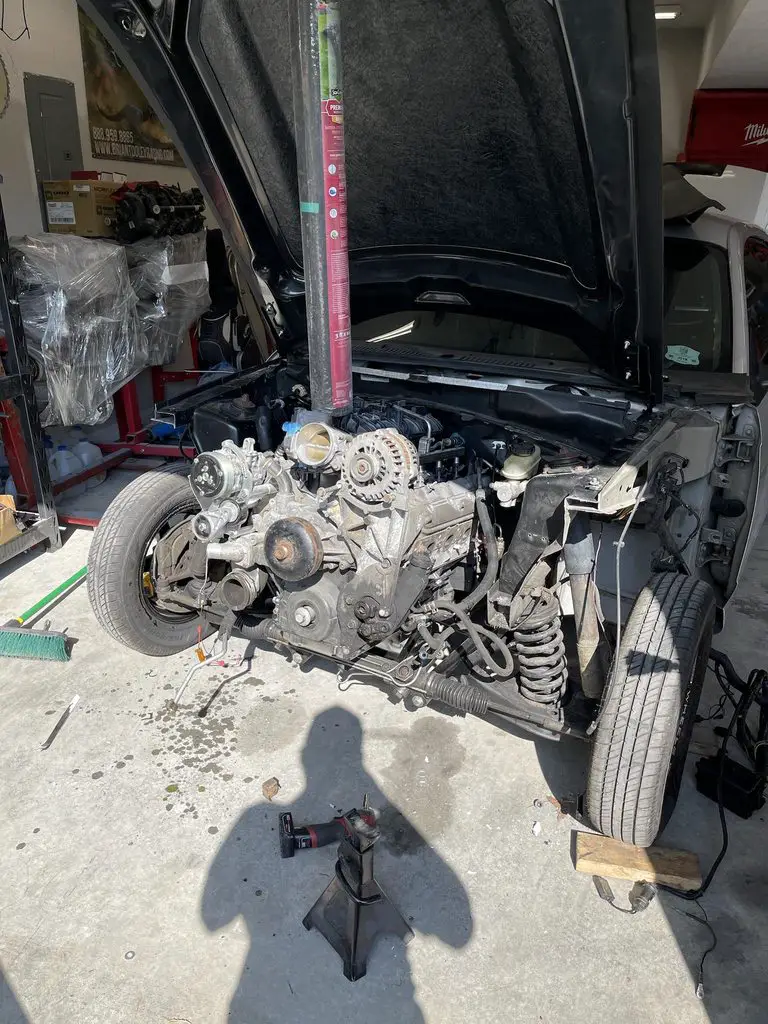 Started buying a decent amount of goodies for the car... BTR shaft rocker kit, BTR .660 springs with titanium retainers, 4" On3 Intercooler, Force Inductions 88/96 v band turbo, 10 point chromoly team Z cage, 60mm Turbosmart waste-gate, 50mm Turbosmart BOV, Holley Hooker turbo headers, Motion Raceworks E85 sensor one piece unit, FID 2300CC injectors, upgraded my fuel hat to a Fore triple 525lph pump module, 12.3" Holley digital dash, Holley dominator and wiring harnesses.
That about brings me to where the car sits today. I am waiting on my Codion tubular front end to come in so i can start mounting and routing a bunch of stuff. I have a 99-04 8.8 i got out of a car i parted out recently to that is waiting to be sent off to be shortened, straitened, braced and then assembled.
The goal is to get this car on the road sometime this fall on the SBE and then build a forged bottom end 5.3 in the winter. Still a unknown on what transmission i will run as of right now. I have a powerglide and a 4l80e sitting in the garage as we speak. I know that the 4l80e will rob some rwhp but it has overdrive, the powerglide will be a good for the power and cheaper to build but is not as forgiving on the street/highway. Thought?
Ill keep this thread updated as parts roll in or as progress allows!
Last edited: