Spent a good chunk of time getting HPTuners logging the HellKitty properly. Big learning curve figuring out which sensors do what to produce viable data on this platform - especially considering it is about a 10000:1 ratio of LS-threads to HEMI-threads talking about tuning/scanning. Demographically speaking it isn't a surprise as the vast majority of HC owners are completely hands-off.
Couple of interesting things here:
1. IAT B1S3 is showing the aftercooler/pre-intake valve temp - this is where a little post blower alky injection is going to come in handy (and a couple of alcohol/water intercooler sprayers);
2. The twin WB02s show Lambda at 1 outside of PE, the fuel trims reflect the known alcohol content (10%). Perfect. However, it is interesting that the calculated (not measured) alcohol percentage is still 0%. This is accounted for in the tune from the factory as stoich is ~13.5:1. This is why Lambda is a better indication of air fuel ratio as it focuses on oxygen not fuel composition. Down the line I plan on pressing this closer to 30% measured alcohol content, and it should be calculated as 20%;
3. Zero knock. Good pump fuel, moderate factory timing; and
4. All the boost (11.4-11.6 psi) is factory normal, and supporting calculated airmass (is really good).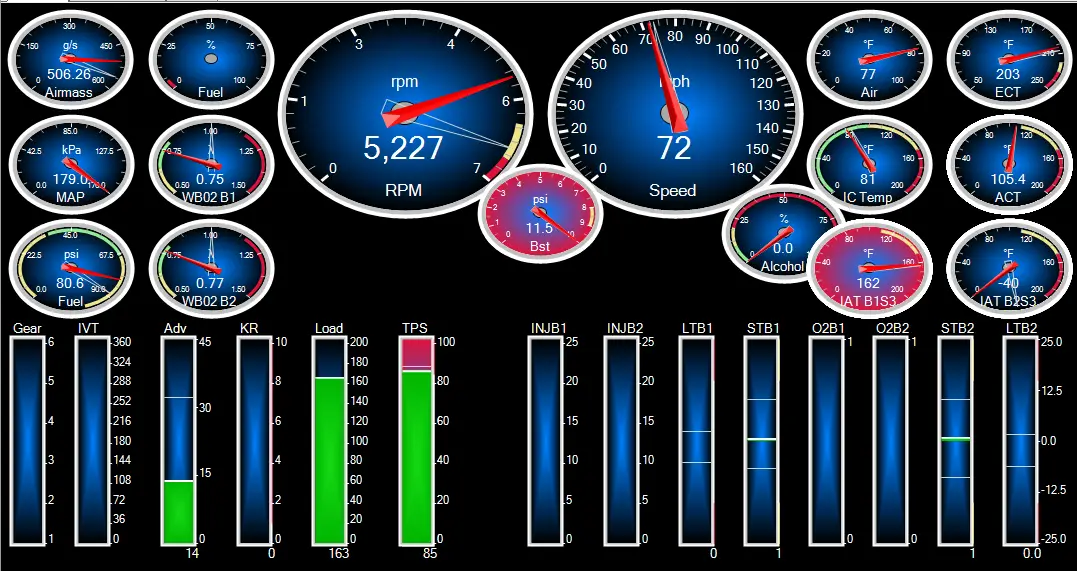 This graph is using airmass (in grams) x 1.1 as a constant for a supercharged application (turbo and NA is 1.25) to produce the power calculations:

It isn't a perfect model, but if the airmass is there, and this is a Closed Loop system, the fuel will follow = Moar Powa Baby!