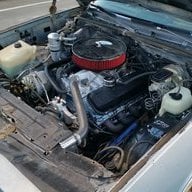 454GrandPrix
Master Mechanic
My 1999 4L80E is installed behind my 454, and I am controlling it with a TCI EZ-TCU and a junkyard floor shifter from a FWD Grand Prix. As far as that stuff goes, it is all working well. However, if you were to crawl under my car and look at the side of the transmission, you'd see something very similar to this:
The external neutral safety switch assembly has its wires just hanging in mid air, attached to nothing. I haven't yet wired them in since they were not critical to getting the car running. But now that I'm driving, I realize I have no backup lights. I also have nothing preventing the starter from engaging while the trans is in gear. These seemingly trivial issues can be a big deal, so I'd like to overcome them. (For those who are not aware, the EZ-TCU has no outputs/controls for these capabilities.)
I am Googling around looking for info, but the answers are eluding me. I know there are other members here who have swapped a 4L80E into their cars. How did you guys figure out this portion of the swap? Is there a good web site that I just haven't found yet?
Any help you can provide would be very... helpful.