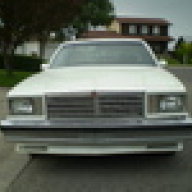 Feb 6, 2009
2,711
2,489
113
I've been meaning to post this up for awhile now but just couldn't find the time....crappy weekend weather wise so thought this would be the time.
Back in about 1982, about when I first met my now wife, her father had a 59 GMC that he had done a bunch of work to years before, but at the time I came into the picture he was looking to sell. I was young and thought it looked cool and said what the heck...I'll buy it.
This is what the truck looked like after getting it home and finding some chrome wheels for it...(picture of a picture of course...
The body was starting to go again so not wanting it to get to far, with the help of an uncle who was/still is an awesome body guy we did her up and I had it repainted in the same colors. I had full intentions for going through the rest of the truck but other projects came along and the old 59 seemed to sit.
In 1986 my by now father in law had purchased an acreage just out of the city and after we got a house, shop and storage building built, needed a truck for this and that. As the 59 was just sitting I decided to sell it back to him on the condition that when he was ready to sell I had first shot at it. Well about 3 years ago that time came, father in law was selling the acreage and decided it was time to sell. We talked and I decided that I didn't have the time or space to go through it the way it deserved. Now my brother in law had driven this truck to high school and was obliviously next in line for the truck.
He had a child hood friend that he stayed in touch with that offered to take on the restoration just for the fact of them being good friends for all these years and that the truck was lucky enough to stay in the family for all these years. This fellow had done a couple or three cars prior so it seemed like a no brainier to have him do it. The brother in law footed the bill for all parts/supplies etc and came out (he's in Calgary AB) more than a few times to help out.
Well In July we attend the unveiling of the truck. For the most part it's pretty much based on the original theme...with a few subtle changes, truck was original an Omaha Orange but this more of a Hugger Orange. It's equipped with a 235 six cylinder with modified exhaust manifold for dual exhaust and running a 3 speed standard. Rear end is from a mid 80's 12 bolt truck with a 3:08 gear for drive ability (original rear was 3:90). Truck is all new from top to bottom and I think it turned out great. It was a pretty emotional gathering and I'm glad to finally see it done up right.
Now on to some pics....lots of activity at the time so there's a few people in the pics..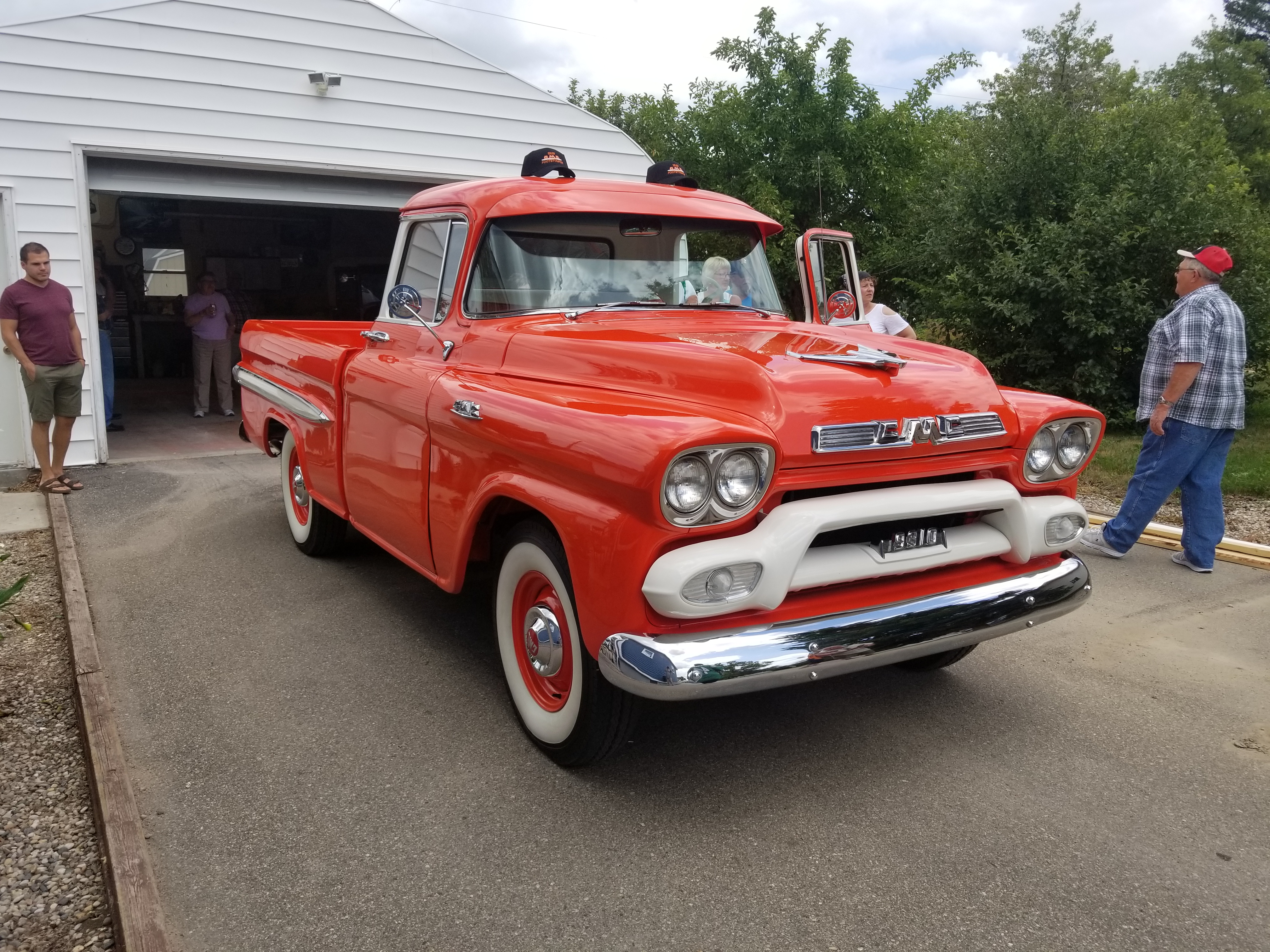 This is my brother in law and proud owner of the truck.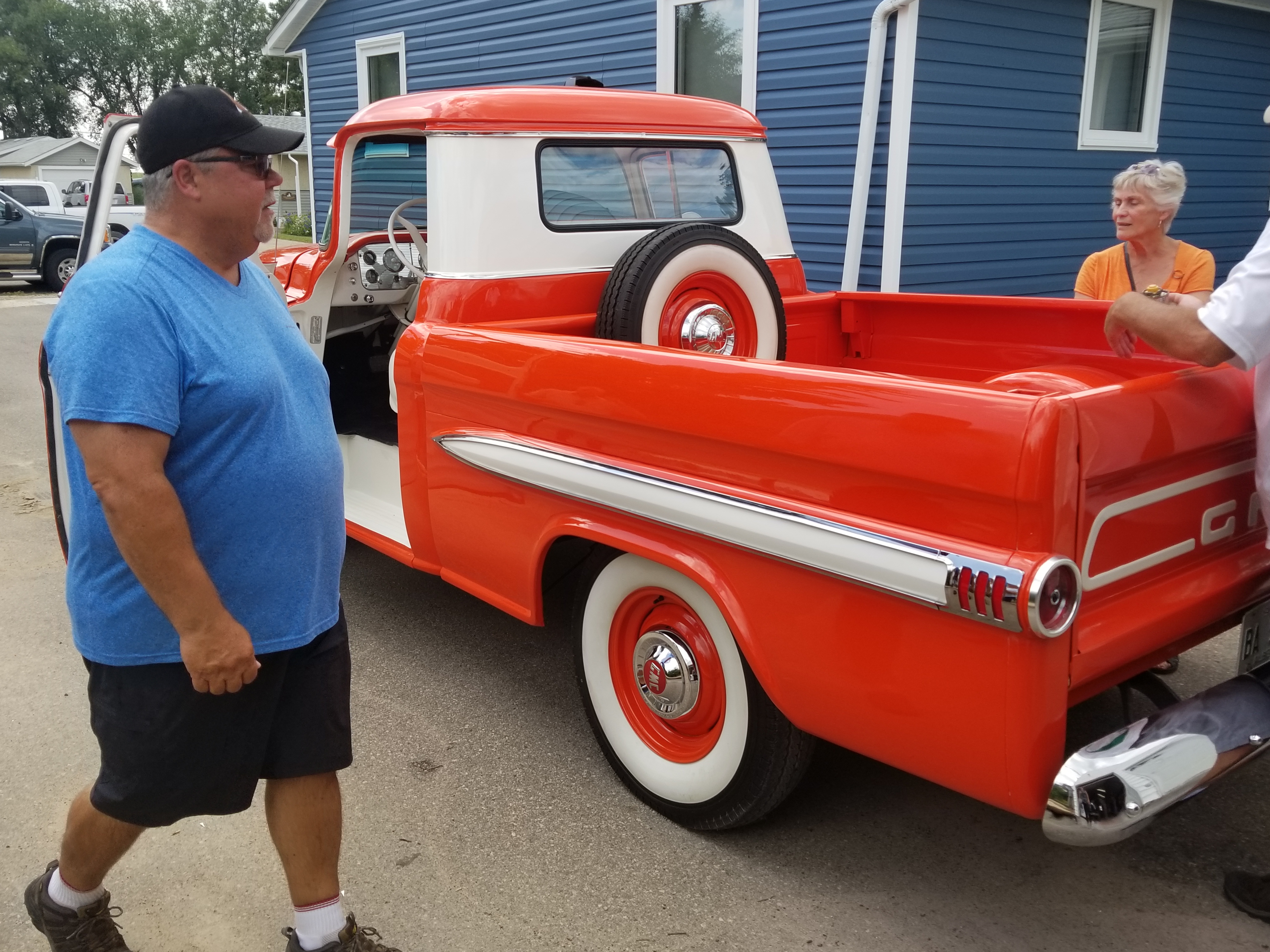 The fellow that restored the truck in the white shirt and hat.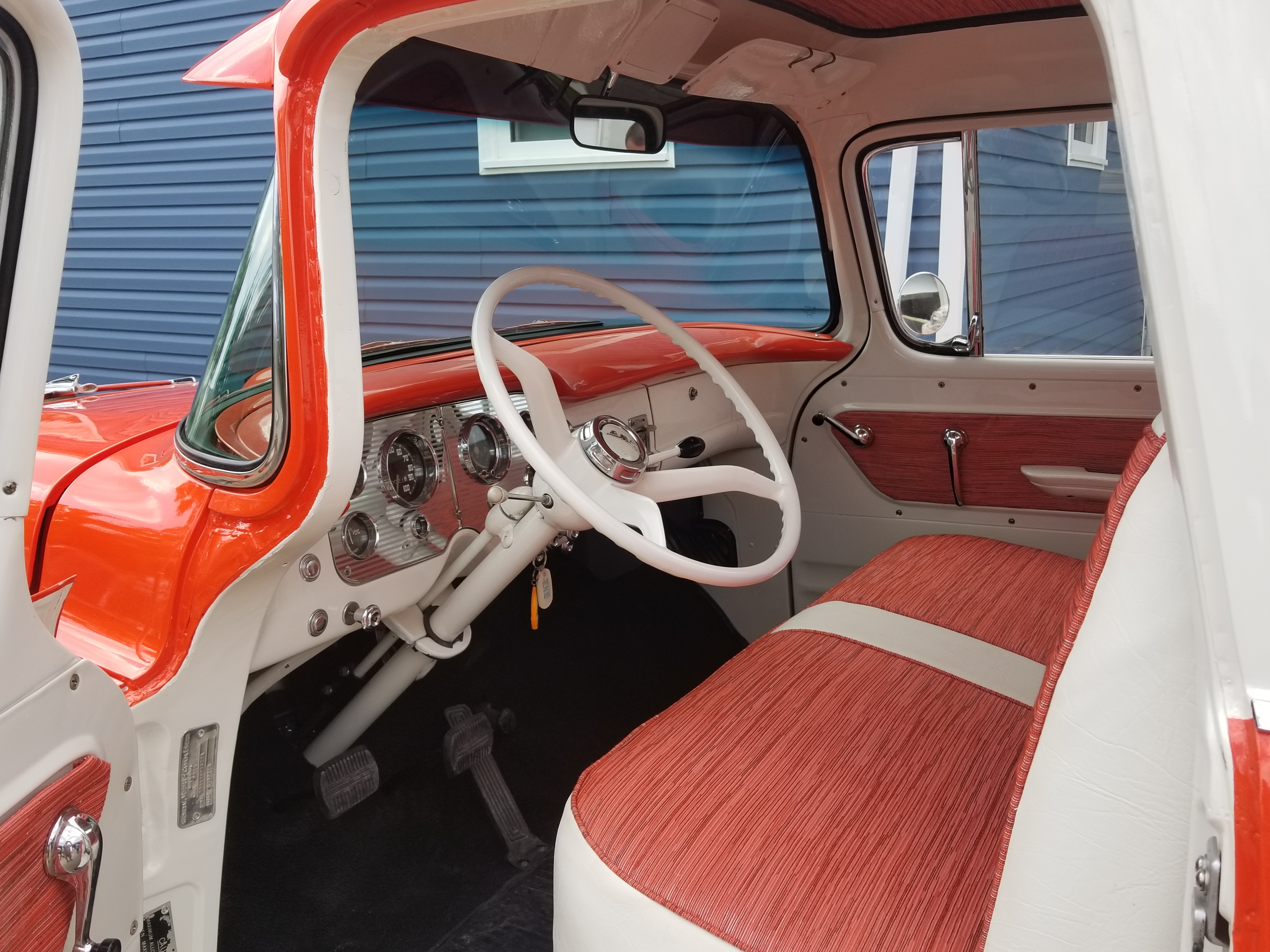 Well there it is! Hope you guys enjoy/enjoyed the thread... the truck made the trip back from Regina to Calgary without a hitch and is proudly being driven there.
Thanks for looking in!!
9

6