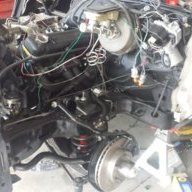 vic455
Not-quite-so-new-guy
Hi guys, posting my cutlass here in case anyone might be interested.
Original Arizona car 79 cutlass, 260, runs and drives good.
Body and interior are in good condition except for the dash and steering wheel. Interior plastic panels have been painted with duplicolor gray. 80 w30 tail lights.
Needs the windshield replaced, sun visors, and plastic b pillars.
The car does have some leaks but never bothered fixing them since I planned on swapping the drive train.
Vehicle is located in Loveland, Colorado about an hour from Denver. Asking 3500 for anyone here on the forums.
Would love to keep this one but need to finish my other cutlass. Can provide contact info on a dirt cheap olds 455/th400 if interested as well.
Here is the link to my craigslist posting:
https://fortcollins.craigslist.org/cto/d/loveland-79-cutlass-sepreme/6912180821.html