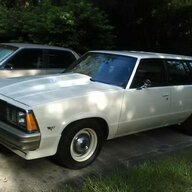 Oct 14, 2008
9,782
5,468
113
I'd like to introduce Jacob Pandolph, a new member and fellow wagon pusher. As the title states, he's the new owner of an '80 Cutlass Cruiser. Hopefully, he'll share some pics of his new ride...and chime in and tell us where he's from.

Here's what he told me.

So, I'm new to this Forum. I recently purchased a 1980 Oldsmobile Cutlass Cruiser Brougham, and I really haven't been able to find out where to buy parts. I got an amazing deal and bought it for $500. It needs many parts like rubber seals for the windows, a door doesn't open, and it needs some minor cosmetic work. I don't know what to start on first. The car runs and drives great. The bottom back door won't open either. I don't know what to do first.

Jacob, anytime you'd like to chime in and continue this thread, please do so. Btw, it has a factory installed Chevy 350, which is unusual.
Last edited:
1

1