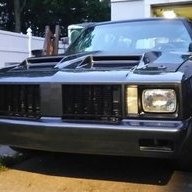 Feb 16, 2011
3,460
3,570
113
Well, I have a VERY long thread on
maliburacing
. But this is a G-body, and I see a lot of long roof lovers here so...
It's gonna take a while to get this thread up to speed with where I am at in the build. You's guys can always view my cardomain page for ALL the pics.

This started in September 2008. I've had the car for 2 years now, but I hung onto for the longest time since I was unsure if I was going to keep it, or cut it up and keep my Malibu.
I sold my 1978 El Camino SS . I picked up a 81 Buick Century wagon to replace it. My brother and I got the wagon for the parts, since it has a complete 86/87 GN drivetrain. Motor, trans and rear.
I ended up keeping it. My Malibu wagon is getting gutted, and all the new part that were on that are going on this.
This is more of a pro-touring style build. It'll have power everything, a/c, killer j/l and PPI stereo from the Malibu, car computer, Dynomat, fiberglass door panels, custom front fascia, bodykit/ground effects/rollpan
(UPDATE Aug 2013, Using an Olds front clip no ground effects!!!)
. 18 inch wheels.
I already have AFCO front and rear springs, stiff. Adjustable spring cups, all the body and frame braces. Big front and rear sway bars. I boxed the rear UCA's and LCA's. Quick ratio steering box, jeep steering shaft. All new bushings, tie rods, center link, etc. 4 wheel disc brakes. I have a GP dash, custom insert, Autometer Phantom gauges. Custom 3 gauge A-pillar. The list grows. Over the coarse of the thread I'll post all the pics, by the time I am up to date you can see where I am at now. Again, one could always check out my cardomain, or check out the 22 page thread a
maliburacing
.
As far as how it ran when we got it, I was VERY disappointed. The person who did the conversion did a hack job on the wiring harness. The ECM was bad, the MAF was bad. The turbo was shot. The exhaust was falling off. None of the warning lights in the dash worked My 'bu wagon is 4000 lbs and runs a 13.6 with a 2.1 60ft, and is faster than this thing. I am disappointed actually. It'll see 24lbs of boost on the gauge, has an adjustable FPR, 30lb injectors, cold air intake, plenum spacer, manual boost controller and came with an ATR pitbull chip, and a hypercrap chip. Apparently there was a nitrous backfire, then fire, so the wiring and turbo got smoked. I found this out 2 weeks ago.
So far I fixed the wiring, got another ECM and modified so I can burn new chips for it. Fixed the MAF. Replaced the turbo with a low mileage stocker, cleaned a quart of oil out of the intercooler.
PICS from 08SEP08
When I first got it, I couldn't move it to get better pics since I had the intake tubing off to prepare for the turbo replacement. You can see the roof is pushed in, since been fixed.
I ripped this 6 banger apart some. It wasn't running real good. The BLM's on my scantool (snap-on MT2500) were at 148, running lean. The drivers side header was cracked pretty bad between cylinders 3 & 5. Someone had tried to repair is using brass rod. haha, It had a bunch of gold boogers on there. So a few hours later I ground that crap off, and welded the header up using my little Lincoln MIG with .030" flux core. PITA, wish I still had my fathers MIG here. anyway, the PS headed was cracked at the bellows. Welded it up. I forgot to take pics of those repairs. I pulled the intake off and it does look as if the intake was leaking. The gasket was a steel valley pan and there was lots of oil between the surfaces.
I bought a new Felpro valley pan and then I used a center punch to divot the entire endrails on the block and intake. I uses the RightStuff for the endrails and the divots help keep it in place.
Here is the underside of the upper plenum. If you look close you can see I started to hog out the spacer. I used to be like 1 inch wide, sticking into the plenum area.
Turbo inlet. You can sorta see how I ported the inlet and it radius' into the compressor wheel. Sorry for the crappy pic.
I picked up some free 3 inch stainless Magnaflows from a fellow military member, and I got a jet hot coated 3 inch exhaust for it too. I'll be building a stainless steel downpipe for it, but that is in the future. I haven't done anything with the valve covers or plenum at this time. We had a bunch of big military honchos doing an inspection at my base, so working on personnel stuff was out.
What I need to do now is find a junk factory cat converter, so I can cut the oval flange off it. I need to make a "test" pipe to mate the exhaust to the downpipe.
Here is the engine back together with new intake gaskets, valve cover gaskets, etc.. I powder coated the valve covers and upper plenum red. I ported the TB bigger and the upper plenum to match. Gasket matched the lower plenum to the heads as best I could, the bolt holes are way bigger than the bolts from the factory so it wasn't possible to get them dead on.
Assembled engine:
I fixed all the lights, wiring, heater, a/c, I put a floor shift column in it.
I converted to the new coil packs, type II. I need to get a new up-pipe, have some 3 inch stainless, I may make it 3 inch. I got another EGR valve, another MAF with one screen. Mounted the PS reservoir up higher. I want to make a nice bracket for it. Put delay wipers in it with the switch in the turn signal stalk.
I popped the HUGE dent out of the roof, I need to replace the inner roof braces though, they are smoked.
Here is the 3 inch mandrel bent dual exhaust. It is thermal coated. Pics of the 3 inch stainless Magnaflows. I made a "test pipe" for it too.
I took the weld wheels off it, I'll keep those if I want to race it. For now, I threw some rallys on it I had laying around. I'll be putting the 17's from my 'bu wagon on it.
I bought a turbo tweek chip, 18 lbs boost for 92 octane. Took it for a ride and MAN :rockon: this things hauls. WORLD of difference from the way it was when I got it. Looking at some of the dudes on turbobuicks, they are all high 11's, low/mid 12's with stock longblock set-ups like this. I have the intake, exhaust, the chip, plenum spacer. I wanna get what is called a power plate, put the nitrous on it, and an alky kit. If it doesn't run low 12's high 11's, something is wrong. All with 20+ MPG cool.gif
I picked up a polished up pipe, a heated Caspers o2 sensor.
Newer engine pic
Casper heated oxygen sensor kit
Polished Up pipe
RJC PowerPlate yet to be installed as of these pics.