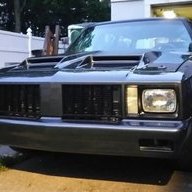 liquidh8
Comic Book Super Hero
Re: 81 Century/GN Wagon build-up 56K beware!!
I sandblasted the rest of the drivers side front floor pan, the a whole load more pinholes cropped up in the rust spots. As I started patching them, I realized it was more of a PITA then it was worth. So I took the Malibu wagon, and cut the drivers side front pan and trans tunnel out of it for the Buick. I also patched the floor where it meets the rocker panel. Then blasted the rest and painted it. I have to weld the console brackets in and the front inner bucket seat bracket. I also have to get the whole bottom of the floor pans cleaned and painted yet so there is plenty work left to do, but at least I can get the interior going in. Alot of wiring and and all to do yet.
Here is the floor/rocker getting disected.

I sanded/grinded more after this pic to get it smooth.
Got the rocker welded up and the pan blasted, quick glance, it looks fine, till you shin light and see the holes ](*,)
Here is the Malibu pan, some surface brown but otherwise a great donor.
Here is the Buick pan cut out out.
Last few are in the dark and painted, sorry I forgot to take progress pics with welding it in ](*,)
Here is a box with the power hatch glass release stuff.
More to come when I get it on the lift and drop the transmission and exhaust to clean it up.
Got the floor pans on the inside seam sealed, finished painted, I bedlined them. I ordered some fatmat from the ebay seller, 50 sg ft for 89.00, free shipping! and it comes with a roller! I'll be blasting the surface rust on the bottom, seam sealing what i can get too, and painting my welds till spring comes and I pull the body off the frame to do the whole thing.
I'm in a bind with room, I have a few projects, all apart, all taking up what little indoor storage I have, so I have to put the Buick together sort of, what ever I pull off the bu has to go on the Buick. But not entirely, since I don't want it to be all heavy when pulling the body off.