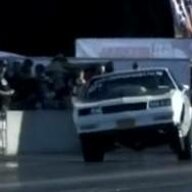 Goat Herder
Supporting Member
I put in the SSM truss kit and I like it. It has a couple of issues that aren't severe, but it will test your fab skills despite being a 'kit'. I plan to do another if I ever damage this one or get another car. The only reason being price (I'm a cheap SOB). But, if you can afford a prefabricated 9", then that is a crap ton easier.
Wraith
is in the process of putting in an 8.8 truss kit, and I'm not convinced that he's loving the install, but he's not done yet either.
I made about around 700 whp on the 31 spline stock axles for a bit and never got much faster than 10.6. Then I swapped to 9" big ends that I welded on and went with 35 spline axles and a spool (spool = cheap which fits me).
Regarding the instant center (IC), I believe the 8.8 truss kit allows for a better instant center if you can hit hard - BUT I'M NOT AN EXPERT lol - only offering my opinion. I believe
GroceryGetter83
and
wingnutks
are both running 9" fabricated rears and they both have been faster than I (but I'm comin hehe).
My take on this is that if you can afford to buy a fabricated axle, then do it and don't mess around with the 8.8. I have $1200-1300 in my complete rear - truss kit that includes adjustable a-arms, 9" wheel ends, axles and spool. A 9" from Quicks Performance is about the cheapest one you'll find and I believe that will be in the $2300-2900 range depending on the goodies that you add on.
I have confidence that I won't break this thing, other than maybe some gears, but the junk yard is full of them. 9" gears in the junk yard are unobtainium.
EDIT : should mention, nothing wrong with overkill on a rear end, but turbo cars don't hit hard like a nitrous car - you can get away with less and be faster.