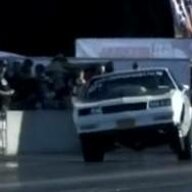 Goat Herder
Supporting Member
For the umpteenth time, I don't know sh*t about HP Tuners. Before I got to doing anything wild and crazy, I'd confirm timing via timing tape and a timing light to make sure that your timing is exactly what you think it is. Perhaps you've already done that, if so then carry on.
I wish I had some videos of some of my 'dialing sh*t in' launches at the track where I experienced a bog - yes 5-6degrees and it looks like I'm in slow motion. 12 degrees at 8 psi and I turned the tires to smoke on a crappy burnout (coldish tires). It's a fine line on a budget suspension. I think we both just need to find a consistent, reasonable 60', then we can let the motor do the work.
Is the rain ever going to stop for the love of God?????
I watched your cone course video again, holy batcrap Batman, you stomp on the throttle and the 2+2 is ready to be a drift car lol
Very, very enjoyable!