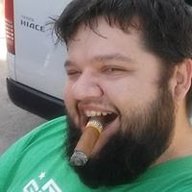 jakes87SS
Master Mechanic
Hello,
so this is play a little catch up as i never decided to do this for the 1st year as that was pretty boring but now i'm ripping this thing apart for reals and decided to make a build thread.
Ok so the story starts i just wanted to wash my shitbox daily 03 focus zx3 as we had a thing and work and i hate having a dirty car at company things unless its flat out caked in mud and impressive. sitting on the front line at the local gmc dealer where i went to sinfully machine wash my car is a minty 87 monte carlo ss bone stock t-tops. i needed this car like the junkie needs rocks. i've wanted one since highschool, and now had the means to possess a "dream car" as it were. so fully engaging my "shrewd negotiator" skills i walked in and paid full asking price and picked up my car.
Here it is 10 minutes after i signed the paperwork on my lunch break and drove back to work:
I legitimately told myself i love this car and i don't want to do anything to it, love it so much i wont do a burnout with it. then at the first stoplight i pressed the brakes and matted the throttle and to my surprise she just started spinning both rear s and went a fuzz sideways turns out i got a cart optioned with a 3.73 posi diff. and out the window went the i wont do burnouts as i was doing mad skids everywhere i went. i later discovered that it's so good at doing brake stand burnouts cause the wheel cylinders did nothing. not thinking a stock 87 305 should not be able to burn out that well hadn't really crossed my mind yet and went out and alleged did some highway runs later on that afternoon till it started getting dark at which point i learned the headlights were original and frightening doesn't begin to describe the feelings i experienced piloting this thing home that night. i also have a thing for parking next to other cars for pictures but you will catch that pattern if you hang around long enough.
I quickly decided restomod was the life for me pulling parts from other gms and generally re-building this car the way i felt it should have been.
Last edited: