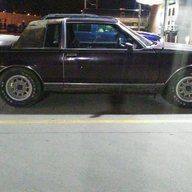 Nov 15, 2014
4,422
2,762
113
Found these a while ago,
http://mandrelbendingsolutions.com/g-body-tailpipes-aluminized-steel/
, looks like a good deal. It's the only place I've found that sells the side exit pipes, everyone else (as per usual) assume Chevrolet is the only car manufacturer so only rear exit are available.
I mean for $130 shipped I can't really complain, don't want no janky tweaker muffler shop BS on my car, again. I have exhaust to the crossmember, plan is to install the tailpipes, and bridge the two.
Anyone have any insight?