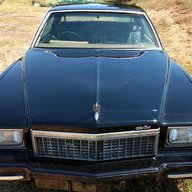 Masone
Not-quite-so-new-guy
Cheers for the ad, just introducing myself and the new project. Picked up this rhd 79 Monte recently to rebuild. Last American car was a rhd 62 impala that I never really got to finish so looking forward to doing this one justice. Not many gbodys here and only a handful of third gens so parts all have to be sourced stateside (licence pocket anyone?
) Still not 100% what direction I'll go with it, maybe very mild lowrider but we will see. Car seems pretty solid, one advantage it not snowing here except up in the ski fields down south
It did have a vinyl roof so expecting some hidden surprises around the rear window. Will get a build thread going once I crack into it.