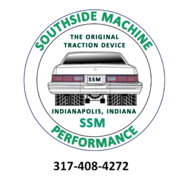 SOUTHSIDE MACHINE PERFORMANCE
GBodyForum Sponsor
SSM ULTIMATE FRONT END KIT "THE GAME CHANGER!" G-BODY
SPINDLES
Tall Pro Touring Forged Performance Spindles for the G-Body. Raises Roll center, lowers center of gravity (0"-3" drop), virtually eliminates bump steer and creates a negative camber curve that surpasses the C7 Corvette. Uses larger bearings with a wider separation and will accept OE GM 11-14 inch rotors. Huge single piston to 8 piston caliper options as well. Bolt on fast ratio steering arms. Even the ball joint tapers are larger.
Designed around stock and aftermarket lower control arms.
Powder Coated Black
ADJUSTABLE A-ARMS
GM G-Body adjustable upper A-Arms come with QA1 XD Series Chromoly PTFE Lined Heim Joints and 4130 chromoly adjuster sleeves, optional 6061 -T6 aluminum.
These Adjustable upper control arms adjust on car and allow extreme camber and caster change for the ultimate performance. These adjustable arms also allow the use stock of the huge OE Mopar Muscle car ball joints and no need for alignment shims and you also gain header clearance. Powder Coated Black
Kit includes 2 of the following...
SSM Tall Forged Spindles
SSM Adjustable Upper A Arms
SSM Fast Ratio Steering Arms
QA1 or Moog Upper Ball Joints
SSM QA1 Hybrid Lower Ball Joints
Moog Premium Tie Rod Ends
Moog Custom Rated 500-550# Touring Springs
Call about Coilover Options
This kit does NOT come with brakes. Requires use of OEM GM 1964-1972 A Body Brake Components, (available all over the planet). FOR ABOUT $250
eBay search ( 1964-1972 gm A body deluxe front disc brake refresh repair kit all new parts ) and will include the following...
2- 11" Drilled and slotted front rotors
2- New calipers loaded with semi metallic pads and hardware. (7 INCH PIN SPREAD)
2- New caliper brackets
2- New disc brake dust shields with anodized finish
1- Complete bearing and seal set.
2- rubber brake hoses
1 set of mounting bolts
This is better braking than the factory G Body stuff. Big brake kits also out there using Corvette, CTVS and Brembo parts.
Again this is THE GAME CHANGER and NO G Body parts are retained in this extreme transformation.
Will not accept factory G Body brakes
Will not accept factory G Body coil springs
Will not accept factory G Body ball joints
Will not accept factory G Body tie rods
FRONT LOWER CONTROL ARM BUSHING KITS
The newest G Body out there is 30 years old, most are older. Time to face the fact that your stock rubber bushings are shot. Stock rubber bushings wear out in as little as 5 years. Road oils and heat are their death, they get hard then crack.
Not just on the lower control arms but on the whole car. They wear out due to age not miles. You already know this if you are replacing suspension parts such as front or rear control arms. If your car's handling seems a bit on the sloppy side lately, then replace your mushy rubber bushings with our solid or polyurethane control arm bushing sets. These polyurethane bushings are unaffected by oil, smog, road salt, and most chemicals, so they won't soften, compress, or distort like rubber does. The steel 2 piece have grease zerks and are designed for competition cars. So, next time you turn the steering wheel, take a high-speed corner, or accidentally hit some potholes, our housing bushings will give your ride the buffer and control to handle the roads ahead. Both sets come with new grade 8 hardware.
I didn't think we were releasing this info this month, but we did. Premiering it this weekend in Cleveland. Thought I would share. Tall Pro Touring Forged Performance Spindles for the G-Body. Raises Roll center, lowers center of gravity, eliminates bump steer and creates a negative camber curve...

gbodyforum.com