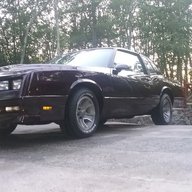 Maverick's_Monte
Apprentice
Car would not move this afternoon. Transmission would not come out of park. I just reinstalled the trans after a full overhaul. It is full of fluid and I ran it twice this past Saturday with no issues. I have a B&M Megashifter installed. I reinstalled everything as it was before, same bend in the cable, etc. I have disconnected it at the transmission end and gently tugged on that end, figuring if the cable is snapped it would just come out, it seems to still be connected in there as the cable did not slip out.
Might it simply be a stuck cable in need of some lubrication?
As always any help/tips/general words of encouragement are appreciated.