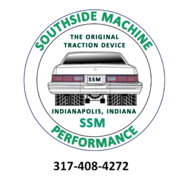 SOUTHSIDE MACHINE PERFORMANCE
GBodyForum Sponsor
Why Modified Front End Geometry is Needed

If you want to improve the handling of your ride, you must first understand what is wrong with the original geometry. From the factory, these cars were designed to understeer. To make them do this, they used a very short spindle with the upper A-arm at a steep downward angle, which results in a backward camber curve making the tires lean out of a turn, using only the edges of the tire. Not only is this bad for mechanical grip, it's also why every stock Chevelle, S-10 or G Body wears the outside edges of the front tires. Below is a diagram of the stock geometry at rest, and then in a hard turn. Notice the severe angle of the tires. All of the cornering forces are placed on a very small area of the tire.



To deal with this problem, there are several things that will help. Simply lowering the car will help to some extent, but not nearly enough to correct the whole problem. Bigger sway-bars will reduce the amount of bad camber gain, but again, it's not enough... it's like a band-aid on a gunshot wound.
To fix the bad geometry, you need a taller effective spindle height. The "effective height" of a spindle is from the pivot center of the upper balljoint to the pivot center of the lower balljoint. Tall spindles with stock balljoints, or stock spindles with extended balljoint studs will both achieve this goal.
Below is a diagram of the same car equipped with a taller effective spindle height. Notice that the tires remain near vertical using the entire tread evenly across its contact patch. This is key to getting the most grip, and life out of your tires.

FRONT END HANDLING KITS EXPLAINED.

Improve handling and fulfill your rides built-in performance potential by installing our tubular upper a-arms. The relocated ball joint plate on these a-arms permits greater positive caster. Expect improved steering feedback courtesy of increased caster and a precise feel due to the deleted bushings and replaced with roller bearings. Features include grease-able steel cross shafts and improved header clearance. These track-tested, jig built DOM a-arms are supplied with a durable gloss black powder coat finish which guarantees your performance parts stay beautiful on your street car, drag car, autocrosser or Pro-touring machine.

The SSM Stage 1

The secret is the combination of the extra tall ball joint to match your new tubular upper arms which greatly improves the camber curves and relocates the roll center. This means more grip and less body lean. The 1" EXTRA tall upper ball joints reverse the backward factory camber curves for a huge increase in grip. They also raise the extremely low factory roll center to dramatically reduce body roll

For stock and lifted cars this radically corrects poor ball joint angle and helps the arm clear the frame when lifted properly.

For drag racers SSM Stage 1 Plus allows faster weight transfer and more positive caster for better top end stability.



The SSM Stage 2

The stage 2 goes even a step beyond the Stage 1 Plus and further corrects the terrible backward geometry of the factory front suspension, by using Racing Series ball joints, the ONLY ball joints made 100% from US materials in the USA!

They are much stronger, smoother, and longer lasting, than original GM, or any other aftermarket ball joint. The .5" taller lower ball joints further improve the camber curves and roll center location, significantly reducing lateral roll center migration for more predictable behavior.

They also correct the factory bump steer issues by raising the tie rod ends into proper alignment.Now with extremely improved geometry designed for the rigors of SCCA, TransAm and NASCAR your car will truly dominate the street and track!

Additionally, all low-friction ball joints have 32 degrees of swing angle for maximum suspension travel and contain no springs or plastic parts. Dust boots are not included but available.



Changing just the upper A arms can only do so much. The length and offset of the arms has very little effect on camber change, roll center or overall handling. They add + caster which can make the car track straighter at speed and improve turn in. However too much can make the car feel vague and the steering sluggish so that only goes so far. As the + caster is increased there is a tiny improvement in camber as a side effect when the wheels are turned. Our upper arms have this benefit as well as more caster adjustment. To make any profound improvement in the suspension geometry of cars that need it the actual pivoting points (pickup points) that determine that geometry need to be moved vertically. Road race cars like SCCA, TransAm, LaMans Series race cars and fast DRAG CARS use special taller spindles, raising the upper ball joint pivot points like our Stage 1 and 2 packages do. This was the genesis of our AFX tall spindles for the GM A Body platform cars. For years circle track racers that run stock G or F body chassis have used taller truck upper ball joints, which seated improperly to improve the geometry. They've been doing this kind of thing for years by fabricating new parts, mixing and matching stock parts, modifying suspension/frame mounts etc. That's how to win races with a less than perfect factory chassis and a small budget. We've taken that race experience, applies new technology and brought it up to date with our SSM STAGE 2 package. Major suspension improvements, not just shiny parts.

Much of it also has to do with alignment. A lot of folks think if their car goes straight and doesn't chew up the tires that it's aligned properly and working as well as it can. They're kidding themselves and they're missing out on a LOT of performance. The alignment specs recommended in the `60s and `70s (and even `80s!) were anything but performance oriented. In fact they've changed little since the 1940s. Today almost every car is using power steering and we're all running high performance radial tires (except for the resto guys but that's another story...) these tires are often more than twice the width of the originals, we've also got another 40 years or so of experience to draw on. What's more, once we've corrected the geometry so that it works like a new performance car it demands the same type of alignment those cars run to achieve peak performance.

Modern performance cars run a LOT more + caster and - camber. The + caster helps the cars track better at highway speeds and gives better steering feel. The - camber helps keep the tire's contact patch flat on the road surface during cornering. It's part of what makes new cars drive like new cars. Using these kinds of settings on older cars yields a BIG improvement in drivability and performance but because they were designed around different specs it's usually impossible to attain the best numbers with stock parts and shims. Lowering the car or increasing the effective spindle height with taller spindles or taller ball joints all add more + camber making it ever harder to dial in a - camber setting (which is what we want). That's the big reason for different upper arms. The taller spindles or tall ball joints make the big geometry improvements and the proper upper A arms make it possible to combine the new parts and geometry with the proper performance alignment, an unbeatable combination!