Well I've had the car for a few weeks, put a few hundred miles on her. She's reliable if nothing else.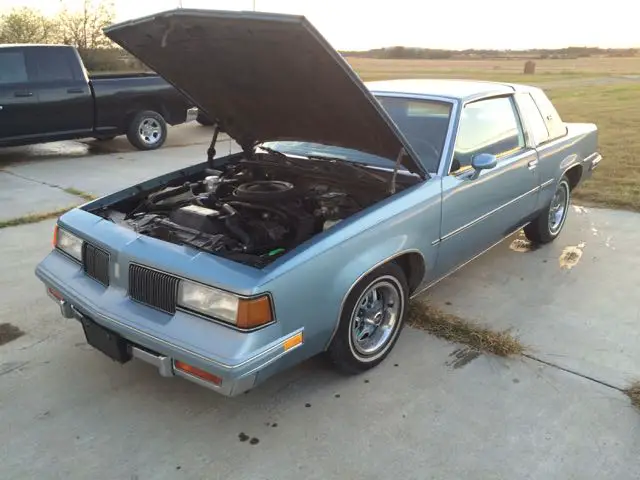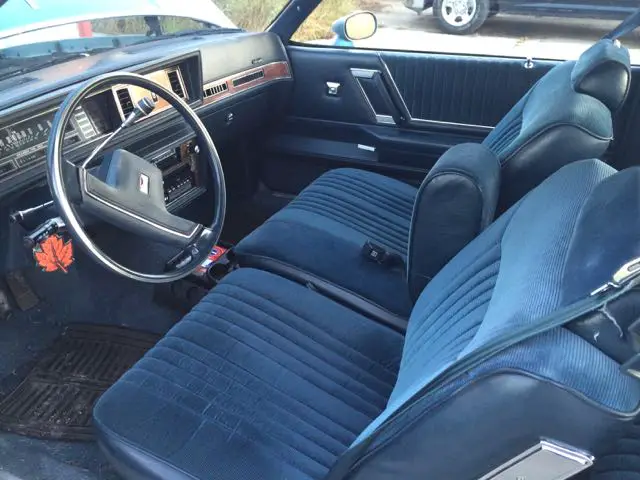 This will be my "master checklist" for the car. "
Project Blue Book
" she will be known as, here and on GBodyMag.com ... I still haven't come up with "a direction" for the car, but I know there are things that have to be done, and things I'd like to do, not in any order really... some easier/cheaper than others... Some very minor, some not so much... So here we go. I'll move things around, add/remove things at random, and
strike them out
when they're done.
Oil Change done 10/30
plugs & wires (8/25/17)
front/rear shocks (bought, fronts done Nov.)8/17
intake gaskets leak (bought)
valve cover gaskets leak (bought) (hope that fixes oil leaks?)
check brake pads/shoes (all feels good, but just bc) yeah good
Trans fluid/filter change (yuck) + fix TC sol. + 4th PS
pcv/breather
(8/10/16)
once-over on ALL hoses, vac lines, and wires
distributor/cap ?
2" lowering springs/shocks
(Thank you UMI Performance, have in hand 8/16/16 done 8/28/17)
rear sway bar (done)
bigger front sway bar (I think I have one?)
interior courtesy lights don't work (upgrade to led? I have a dual map light somewhere too)
(found the foot-light sockets! done 9/4/16)
reglue/replace headliner
upgrade to gauges
(completed 8/24/16)
rebuild steering column (loose tilt,
wiper switch sleeve busted
, rag joint)
rebuild front suspension (upgrade time!) done 8/28/17
rear diff cover gasket
almost inaudible lights-on/left-yer-keys beeper
upgrade headlights/tails all ext. lights to LED
(properly)
--- sort-of finished with issues 9/4/16
442/Hurst cat-back dual exhaust
(7/29/16)
driver-rear wheel well trim mangled from blown tire
window tint
cruise control INOP
(removed, not original, 8/17/16)
windshield washer INOP
(new pump, 8/31/16)
replace ugly steering wheel(!)
left channel audio INOP, replace/upgrade unit (has 4 speakers tho)
(7/22/16)
replace busted PS front grille
upper door panel vac-chrome needs attention
remote PS mirror
power locks?
power trunk button/latch
carpet?
underhood/trunk lights
lower door panel courtesy lights
power window motors are dog slow, probably need replacing eventually
window felts/rubbers/stops
front bumper corner trim mounts are bent "out"
weather stripping, doors, windows,
trunk
(8/24/16), cowl
speedo cable (rattling/gauge flutters)
(8/21/16)
glove box rattles
speakers/amp?
fuel sender/tank unit... (put 13 gallons in today, gauge said I was down to 1/8....)
passenger-side AC vents broken
rear bumper insert chewed up from bent license plate/gas cap access
wish list:
eventually upgrade to olds 350 or 403, but want to keep all the "junk" running smooth if possible. humor me.
install "GN-ized" 200-4r
rear end/gears
buckets/console/floor shifter?
wheels/tires
(DONE 8/12/16)
442/Hurst spoilers front/rear
PAINT (remove aftermarket vinyl top)
Blazer brakes/spindles
It's funny because there are things on this car I never even knew existed. i.e. cardboard(?) covers over the control arms in the engine bay, "splash guards?" over the wiring for the front bumper parking lights, a few other "huh. look at that." things. I need to get the parts book for this just to see what was available.
Last edited: