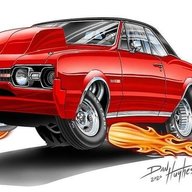 Dec 26, 2013
4,598
4,625
113
Of those that have this combo, did I miss something, or is Proforged stuff junk (the name is impressive)?
When I first did the swap (Belltech Blazer drop spindles, Spohn/Proforged steering gear for a G body), I noticed that the tie rod ends and adjuster sleeves were too long. That's easy enough; cut them down to fit- done. Then, once everything is to length, the tie rod ends are too tall in the steering arms (teeth in the castle nuts below the Cotter pin hole), and I stripped the castle nuts with the impact gun. Oh well, run it. Fast forward to last week when my daughter found a tie rod boot in the driveway. It was split down the middle, and sure enough, it had fallen off the passenger side. Today, I swapped the outer tie rods out. When I cracked the driver side, that boot had split, too. I had to cut them to length again, and stacked some washers on top of the steering arms so the nuts don't bottom.
Do I have the wrong parts, or is Proforged stuff junk?