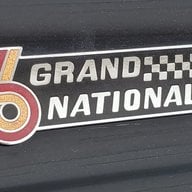 Greasemonkey
Thread starter
Thanks guys. I am in Hamilton Ontario. Not every car is rusted in Canada Nailhead. The secret is not driving it in the salt.

I will continue to advertise parts here. Also there are a few groups on Facebook. Turbo Buicks of Southern Ontario TBSO, G body of Ontario and a popular one here is Kijiji. The control arms went to a guy from Quebec. The 8.5 has also been sold through Kijiji. Pretty sure I advertised it here first. The advantage to Kijiji, you get offers without the opinions. Here was just 10 replies about, I'm asking too much or an 8.8 can be done for cheaper.

After rebuilding, actually just replaced the dust boot on my steering shaft. It was ripped but the joint had no play and the rag joint is like new. Read all the threads about the Jeep steering shafts but I wasn't sure if the Jeep shaft has provision for telescoping. With my rag joint having no play and a new boot, this is like original. Installed that yesterday.

Next is new idler and centerlink. Moog is attractive price but there are many bad reviews. Also need wheel bearings for the Blazer brake spindles.
Last edited: