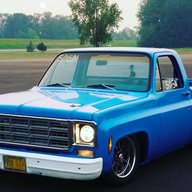 truckdoug
Not-quite-so-new-guy
Hi all, I came over here from Ls1tech after Motorhead Mike suggested I reach out to g-body enthusiasts.
My name is Doug and I run a small fabrication business (very small haha) in Portland Oregon.
A short time ago I sold my long-term project to help finance a move to a new house with a bigger garage and shop, and I immediately started the search for a new project.
Before we even had all the financing for the new place go through, I picked up this low option brown & camel malibu. Originally a v6/th250 car, someone had put in what turned out to be a cammed 305/th350 combo and some 40 series FM's
Here she is the day I brought it home. Look that those centerline Prowlers! If you look closely, you can see the awesome chrome skull lock knobs
she's got some lumps, but mostly complete and very little rust.