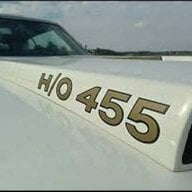 Jan 2, 2006
7,405
15,622
113
If you like "restoring" your car to what it once was, this may be of interest. Been working on a little side project with door handle tape that NOBODY seems to give two sh*ts about. Yeah, you may luck up and find some NOS tape somewhere, but there's so many colors in so many shades, it's not even funny. Plus, the NOS stuff ain't cheap. Many times on a 30+ year-old car, the decals have a tendency to peel or crack at the corners and chip off as they dry out and become brittle. Plus, they love to capture all the wax and polish people used over the years which gets under those decal edges helping to their demise where they just look like crap.
I went and measured the dimensions of the 85 and 87 442 door handle insert stickers to get the dimensions correct as it came from the factory. Interestingly, the factory inserts are just a TAD narrower than the over the counter GM replacements. The factory deals are just a hair under 1/2" wide while the OTC NOS ones are 1/2" nominal width. That did take me a bit by surprise. Obviously, if you have a car with black door handles, like a Monte SS, you don't need these at all.
I've also researched a TON of vinyl colors from all sorts of vendors. And I'm not even close to being part way through. With that said, I do have a list of some 84 and 85-87 colors. And maybe 88, too. Depending. There's always black and white. Those don't change.
IF you need some, I have the following colors matched up as close as possible to the original GM colors. Although close, some are not dead-on while some others are. Check your upper body color code and compare it to this list. $10 shipped per pair, $15 if you need all 4 for your 4 door. If you have a special need for a different size, let me know and we can go from there. Check or money order. I don't have any Paypal or that sort of stuff anymore.
Here's a sample of the inserts. Not a color matching an actual factory G-body color, but I had this extra piece of vinyl from another project left over...never mind the non-quality application. I just stuck it on dry. Some of the B, D, X and E bodies have similar handles, so if you need any for that, just lemme know the color and we can work from there. Not sure if the sizes are any different, but it's not an issue if they are.
So far, color choices are only 11 at the moment.
1984 colors:
(very close) 62 Light Sable Brown Metallic
17 Silver Metallic (H/O)
59 Pastel Beige
19 Black
11 White
1985-87, and possibly 88 colors, although I haven't researched those at all:
19 Black (442)
11 White (85 442)
15 Med. Gray Metallic (442)
(very close) 58 Light Chestnut
12 Silver Gray Metallic
(very close) 54 Yellow Beige
(very close) 25 Light Teal Metallic
(very close) 31 Dark Teal Metallic (86-87 442)
(ver close) 79 Burgundy Metallic (86-88)
Last edited: