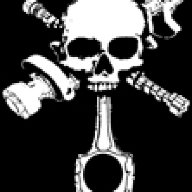 Nov 18, 2009
3,656
7,099
113
Yup, I don't know why they make all those adapter fittings to go from the M14 o-ring port to whatever pipe thread the factory G body style 80's sensors are, especially when the stock LS one works.

I assume nobody ever thought to just check the ohm readings of the 99-02 sensor and compare it to the ohm data GM used from the 60's on. Surprise, GM was smart and kept it the same.....
Seriously, right? They standardized their wire colour coding too. For all the dumb things GM did on the corporate-side, maintaining certain engineering standards was pretty awesome - hence the ability to integrate so many parts from multiple platforms over decades worth of products with just a little creativity.
Last edited:
4

1