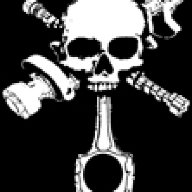 motorheadmike
Comic Book Super Hero
Been slowly picking away at this. Pulled the inner fender liners out of the shed and scrubbed the DS one down (because grime) and bolted it back in (there goes the light weight dream). This allowed me to start laying out the locations for the ECU, fuse/relay block, and the battery (yup, mounting it on the wrong side - good bye weight transfer). The battery is going there for now until I feel motivated to relocate it to the trunk (next winter?) - aids in getting the car running sooner too.
Grabbed some old power and ground wires and slapped them into place. Finally got to use my new lug crimper too. The good news is power seems to be going to all of the right places.
Still looks like insanity-flavoured spagetti soup.