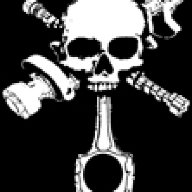 motorheadmike
Comic Book Super Hero
So does this get done before or after the hell-kitty shows up?
Define "done". To be totally honest I am kind of unsure at this stage. For a while there it was such a constant onslaught of effort to get this car road-worthy that it felt too much like work - my mind and body were overwhelmed. The fun lapsed. Then summer came and the girls needed more attention, refining the wagon became the focus (and then it developed issues), and this project was pushed to the back-burner. Now I am in a place where the wagon is sh*te, I am in a holding pattern until the Challenger shows up (and the fun of researching damn near everything about Hellcats has pretty much worn off), and quite frankly I needed a change of pace so I have jumped back into the Monte with fresh eyes and enthusiasm.
Also, I don't want to have you chaps thinking I have gone soft.