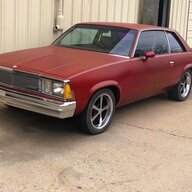 Ribbedroof
Comic Book Super Hero
Supporting Member
Long story short, have 2 cars that need dashes, have 1 nice original dash. Have not had any luck finding a Pontiac dash locally, so it's back to the Chevrolet dash.

For those that have used the full dashcap, do you feel they are a reasonable representation of the original, and would you do it again? Especially concerned about the speaker openings, and the radio area fitment/coverage.

I see OPGI now "estimates" the date to ship the repro dash as 12/30/2018. It's a lot of money for most of us, but if the dashcaps aren't really that great, then maybe....

If you have a full cap installed and have a good pic, please post them up.