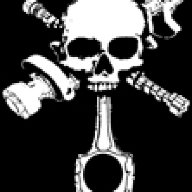 motorheadmike
Comic Book Super Hero
Did an oil change on my TBSS today and part of that procedure is emptying and cleaning out the catch can. Keep in mind this is just a modified eBay unit (internal straw and scouring pads). The oil was last changed on 26 Nov 17 as the vehicle didn't get a lot of use in the Spring/Summer/Fall thanks to the wagon, and many of its trips are short runs into town.
And this is what I found:
It looks like my coffee.
Poured a solid 2 ounces out of frothy smegma, and then rinsed it out with brake cleaner. There was none of this under the fill cap.
The point is if you don't put one on your engine you risk missing clues like this, and also allow all that crap to get pulled into the intake.