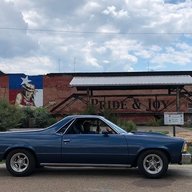 Joeymartin7
Not-quite-so-new-guy
i have an 80 El Camino.
about to start on the Ford 9 swap.

Question for all of yall more experienced G-Body owners...

What is the narrowest i can make this rear end and not have to cut the frame?

I will eventually be getting a deep dish wheel to make it all work right

im wanting to be able to put the widest tire on the car with out having to cut the frame.