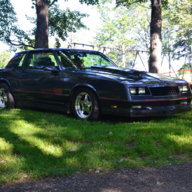 GuysMonteSS
Royal Smart Person
I had been noticing a vibration,mostly when backing off the gas pedal,since last year,but didnt have time to look at it then.I had a chance to use a hoist at my buddy Mark's shop the other day and checked for what I thought might be too much play in the pinion.
Turns out it wasnt the pinion but the rear U Joint was shot.One of the cups had no needle bearings in it at all.
Went to NAPA and got a new U Joint and put it in and now the vibration is gone !!
That sure increased my driving experience
Guy