Anyone have a suggestion for a smaller 'remote' fuel tank vent canister or charcoal filter?
Trying to find a vent solution for my EFI tank. I don't have any of the OEM charcoal canister stuff left under the hood. I would like some type of vent/filter mounted under the trunk floor near the rear axle (like where an OEM muffler sits). I don't need a rollover valve as the OEM EFI sender has one built in. I just want to make sure dust and debris can't get in the tank and possibly if if could filter out some of the gas vapor fumes when the car sits in the hot garage that would be great.
I have plugged the vent that's in the sender before and ran a vented cap but on hard drag race launches it burps fuel out the filler neck. I want a vent running forward and up so raw fuel isn't dumping out of the tank.
There is something like this, but it's a rollover valve which I don't need, and only has wire mesh to keep stuff like rocks from getting in. I'm more concerned with dust getting in the tank being I want to mount it under the car.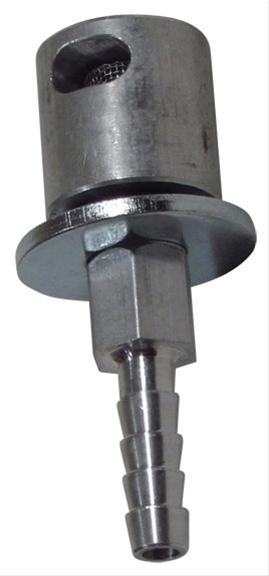 Free Shipping - Tanks Inc. Remote Rollover Vent Valves with qualifying orders of $99. Shop Fuel Tank Vent Valves at Summit Racing.
www.summitracing.com
I've thought about something like an air line muffler, it's small, filters down to 50 micron, and cheap, but I'm OK spending a but more or having something a bit larger to actually remove some fuel vapor if possible.