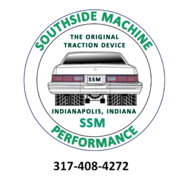 SOUTHSIDE MACHINE PERFORMANCE
GBodyForum Sponsor
GM 10 & 12 BOLT SWAPS
Great job, you found an old 10/12 bolt from a Chevelle to replace the weak 7.5, or at least thinking about it.
Our kit will fit all the A Body rears (1967-1972) regardless of what the carrier size (8.2", 8.5" 8.875") or number of bolts used (10/12).
The most common question is can I use the stock G-Body upper control arms. Short answer is no.
The control arms from SSM Performance are designed to bolt a 1964-1972 GM A-Body 10-Bolt or 12-Bolt rear end into a 1978-1988 GM G-Body; this includes Monte Carlo, Malibu, El Camino, Regal, Grand National, Grand Prix and Cutlass. These upper control arms are built at the correct angle to attach to the G-Body chassis as well as the A-Body rear end "ears". These control arms are a must any time this swap is being completed. Using factory control arms will cause drastic rear end bind and incorrect driveline angle, this leads to traction loss, vibrations and unsafe handling.
So the next question… Can I use the 10/12 bolt lower mounts? Short answer again is no.
The lower brackets are at a slight angle difference from the G Body frame. The holes won't line up very well. If you do get them to fit using pry bars and hammers they will bind and limit travel even more then the stock mounts did.
​
The 2nd issue is the lower shock mounts. When using the wider Chevelle rear using a deeper offset wheel will be required. This causes the new rim to hit the lower shock mounts.
The 3rd issue is the instant location. What is instant center and why is it important? This is addressed on the next pages.
The 4th issue is that stock lower control arms are basically garbage for performance use and the stock rubber bushings were wasted after 5 years of being on the road.
Our upper control arms for this swap allow We have 3 styles of lower control arms. Drag race, Performance and Competition.
https://southsidemachineperformance...olt-swap-double-adjustable-upper-control-arms
Features and Benefits:
Improves Traction
Reduces Wheel Hop
Improves Handling And Stability
Stronger Than Stock Arms
Features TIG-welded Construction
Sway Bar Ready
We fix the issues of the swap that are listed above.