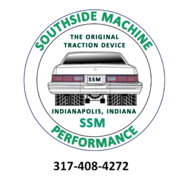 Macguyver
SOUTHSIDE MACHINE PERFORMANCE
GBodyForum Sponsor
I didn't think we were releasing this info this month, but we did. Premiering it this weekend in Cleveland. Thought I would share.
Tall Pro Touring Forged Performance Spindles for the G-Body. Raises Roll center, lowers center of gravity, eliminates bump steer and creates a negative camber curve that surpasses the C7 Corvette. Uses larger bearings with a wider separation and will accept 11-14 inch rotors. Huge single piston to 8 piston caliper options as well. Bolt on fast ratio steering arms. Even the ball joint tapers are larger. Available in stock height and 1, 2 and 3 inch drop. Will be on display at the 3rd Annual G Body Classic this weekend in Cleveland. Stay tuned for more info or call the shop.
It is posted all over Facebook. I'm too old for that, so not sure where to post a link, lol.
We have a good write up on here about why front end changes need to be made.
Why Modified Front End Geometry is Needed If you want to improve the handling of your ride, you must first understand what is wrong with the original geometry. From the factory, these cars were designed to understeer. To make them do this, they used a very short spindle with the upper A-arm at...

gbodyforum.com
www.southsidemachineperformance.com
Last edited: