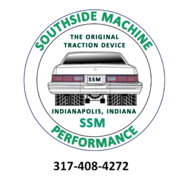 SOUTHSIDE MACHINE PERFORMANCE
GBodyForum Sponsor
Thread starter
Just off the top of my head If I recall correctly we achieved a smooth transition just shy of 2 degrees camber gain per inch during compression.
Another 2 degrees on the outside wheel while turning the steering wheel 15 degrees with around 20% corner weight change.
Uses 'stock style' spindle version of the 64-72 disc brake kits previously posted/linked.
Uses Moog K772 upper ball joint. Build a hybrid if using a bolt in UBJ
Does not use the A Body LBJ. We are building a hybrid with QA1 parts.
Does not use the A Body TRE. Uses a GM 3/4 ton truck TRE.
Uses the stock center link. (could step up the whole assembly with 11/16" if wanted, 5/8" is stock)
Fast ratio steering arms simply turn the wheels faster.