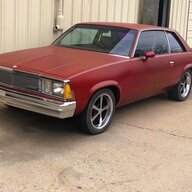 "That wagon guy"
Supporting Member
Still looking for a wagon. Usual sources aren't turning anything up, so if you know somebody with one for sale, a shout-out would be appreciated.

Really looking for a mostly stock wagon, some mods OK, but NOT looking for drag cars.

Chevrolet or Pontiac preferred, but Buick/Olds would be considered if it pushed the right buttons for me.

Not to be a jerk, but I am not really interested in cars with rusty frames/floors/quarters. I'm trying to prepare for some traveling, without having to touch EVERYTHING like I would have to do on the 'ol silver wagon.

Thanks!