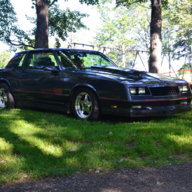 GuysMonteSS
Royal Smart Person
This has been a crappy year for the Monte.
First it was issues with the power windows,then the ignition coil died,then my aluminum water pump developed a crack and started leaking,then my Jeep steering shaft fell apart.
Back in July I changed the oil and switched from my old Valvoline conventional 10W-30 to a synthetic blend 10W-30.
It worked OK for a while but lately it has started smoking and oil consumption has increased.
So I drained the synthetic blend out and refilled with conventional oil again,but it is still smoking heavily.
WTF,if it weren't for bad luck I wouldn't have any luck at all
I have two more car shows that I want to go to,then it might be time for early winter storage before I go back to work next month.
sh*t like this sure takes the fun out of having an old car.
Guy