The GM Propulsion Plant (formerly called Powertrain) that I work at has an annual car show for GM powered vehicles. This is the 20th year for the show. We usually get around 400+ vehicles at the show. This year there is also an open house in the plant. The car show is in a grassy treed park like area in front of the plant. The plant is near Niagara Falls on the Canadian side.
We build Gen V V8, truck, Camaro, Cadillac, and Corvette engines. The plant builds HFV6s including the twin turbo ones. They also build FWD 6 speed automatic transmissions.
My 78 Malibu is half way through a Gen II 350 LT1 four speed swap, so it won't make it. I'll either have my '56 Ford Victoria (currently 400sbc/700r4) or 62 Pontiac (350 LT1/4L60E) there.
http://media.gm.com/Facilities/public/ca/en/StCatharines/ShowNShine.html
Pete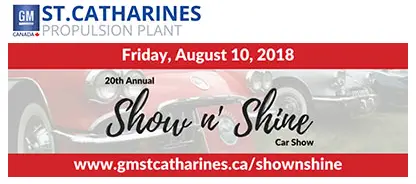 2