I'm getting my 1986 T-Type back on the road after 2 years of sitting. I'll post a build thread with all of the upgrades/changes. But for this thread I'm going to go into the Pro's/Cons of B-Body Brakes on a G-body. The T-type currently has 12" LS1 Front Brakes, that look great and all, but I can't fit my Strock T-type wheels and the GTA rears I run in front are close all over to both the Caliper and the Tie Rod.
I had the B-body brakes on my car for a while. Robert Adams, who did the Spindle ream (to allow larger screw-in Mopar ball joints) and sold the cheap conversion U-B machine Upper Control Arms (with said ball joints) was local to me in DFW back in the day. I found the 12" Spindles on a '84 Pontiac Wagon in the Junkyard. Most B-Body sedans had 11" spindles and S-10 Blazer stuff is a much easier/better way for 11" brakes than the B-body ones.
B-Body spindles have an inherent Bump Steer problem. They are over 1" taller than the G-Body/S10 Blazer Spindles 8.7" tall Vs about 7.5" and they are like getting a tall upper & lower ball joint – so the camber curve is better with normal ball joints, but the height of the tie rod is off for normal steering geometry that makes bump steer happen that you feel in the steering wheel.
Lower, stiffer springs help reduce the bump steer (less travel, less total bump steer), but the two mods that combine to seem to practically eliminate it in normal driving are a Howe adjustable center link, lowered to just above the skid horn on the K-member and a ½" taller lower ball joint (which is like adding a 1" + another ½") on a stock spindle. Later in the thread I will detail the changes in Camber over full suspension travel. +1" Total spindle height over stock seems to keep the static camber throughout the travel (great for drag racing), but more than +1" gives a camber curve more like a sports car (negative on compression, going towards positive on extension), opposite of the stock curve.
Though I had B-Body brakes on my car for years, I only had about 500 miles on the ideal Howe centerlink/Tall lower ball joint set up before I came across parts to complete a 12" Dual piston LS1 set up for stock spindles. Seduced by lighter Aluminum Dual Piston Calipers, I swapped away from the Cast Iron Caliper, single piston B-Body brakes. Both brakes are much better than stock, but the LS1 brakes won't fit ANY 15" wheels and even some 16" wheels need spacers to clear the calipers. I put about 1,000 miles on the LS1 Setup and its good, but new parts availability in 2020 and good things about the B-Body set up is why I'm switching back.
To summarize:
Con's of B-Body Brakes:
Heavier than stock (but then 12" brakes are usually heavier than 10.5" brakes)
Swap best done with conversion specific Upper Control Arms
Bump Steer
1980's B-Body Station wagons aren't in every junkyard, any more
Bump Steer
Pro's of B-Body Brakes:
Better Camber curve than stock
Spindle has 1/2" shorter steering arm than stock (a little more wheel clearance, but much faster steering)
Integral rotor/hub/tapered bearings are more stable than 2 piece hub/rotor/sealed bearings, especially with wheel spacers.
12" brakes that will fit inside some 15" wheels. LS1 12" brakes won't fit inside many 16" wheels without spacers (see stability problem, above).
3/8" wider than stock, so GTA rears and some modern backspace wheels will fit without spacers.
Cheap, widely available 1LE Camaro/TA 12" rotors easily get rid of the 5X5" B-body bolt pattern.
Huge D52 Large Metric Single Piston Caliper weigh a ton, but have tons of clamping force.
Wilwood has new, Aluminum, 2 Piston D52 Bolt-on Replacement Calipers, for less than $400/pr.
The Bump steer is fixable to levels that are not noticeable in normal driving.
Hopefully over the next few weeks I can complete this project without a bunch of other stuff coming up.
Here is a size comparison between the 12" B-Body Rotor and 10.5" stock: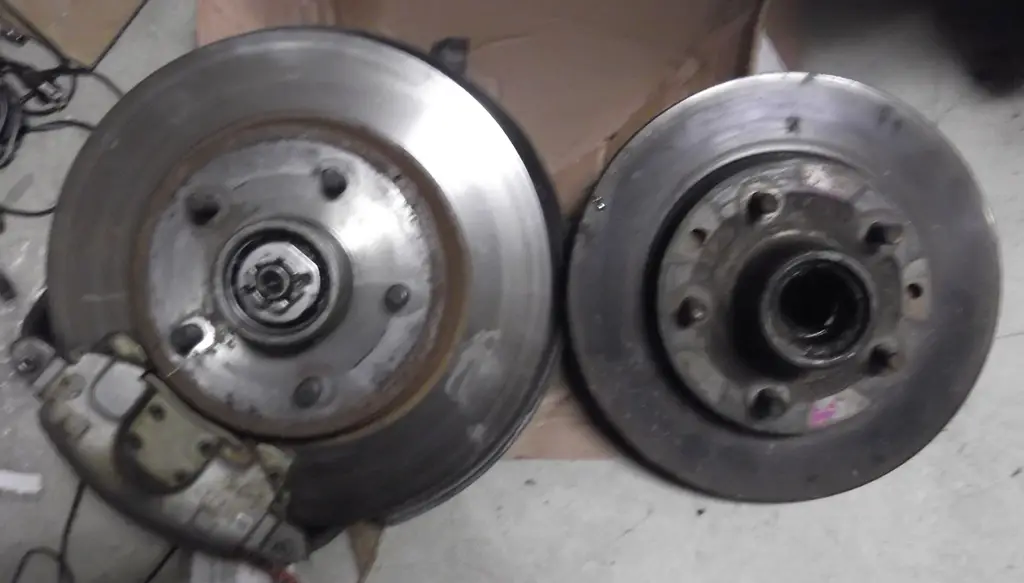 Here is how the B-Body Brake looks on the car: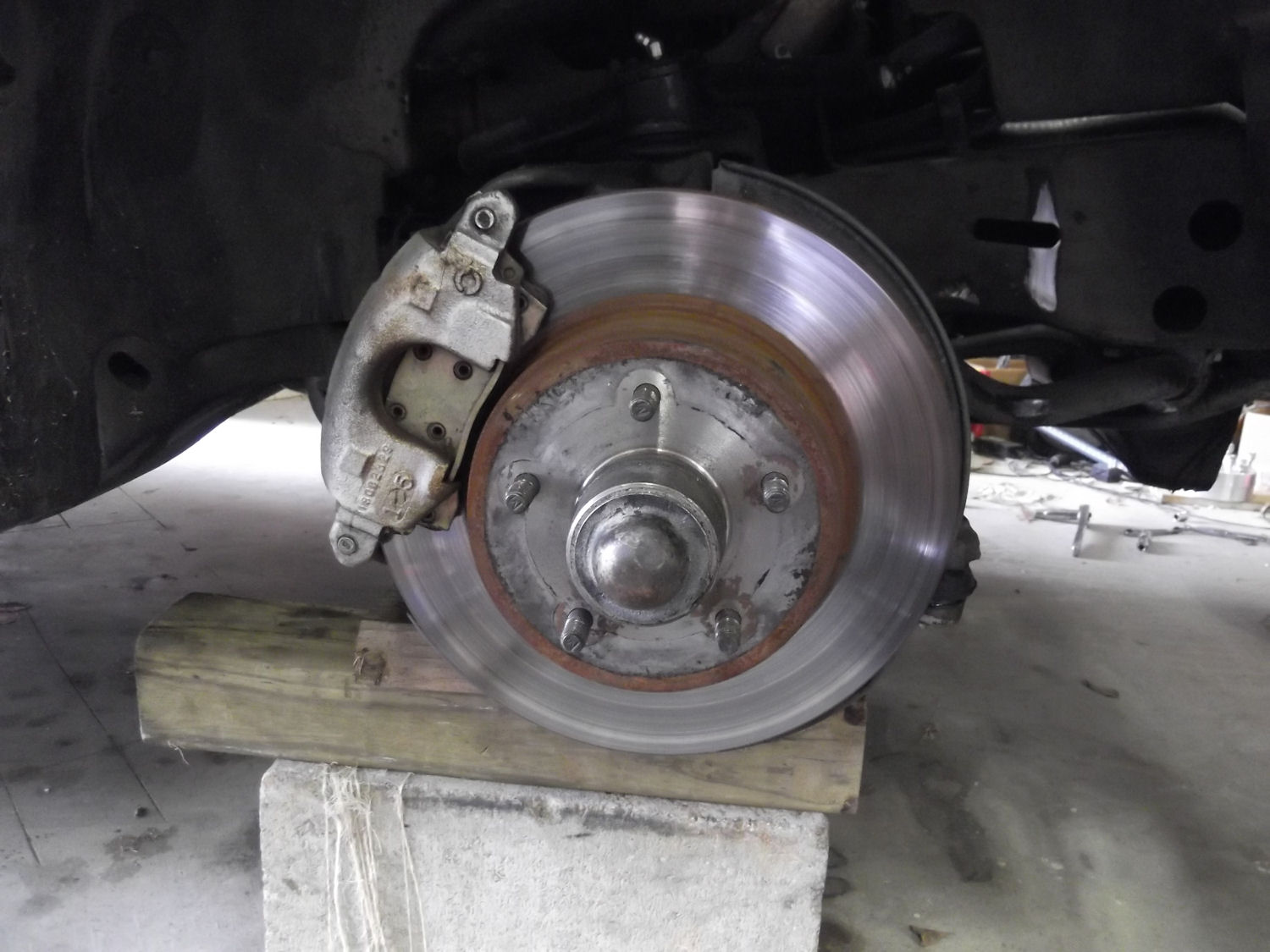 Here is the 12" LS1 Brakes I'm replacing. My Plan is to have B-body brakes that look this cool: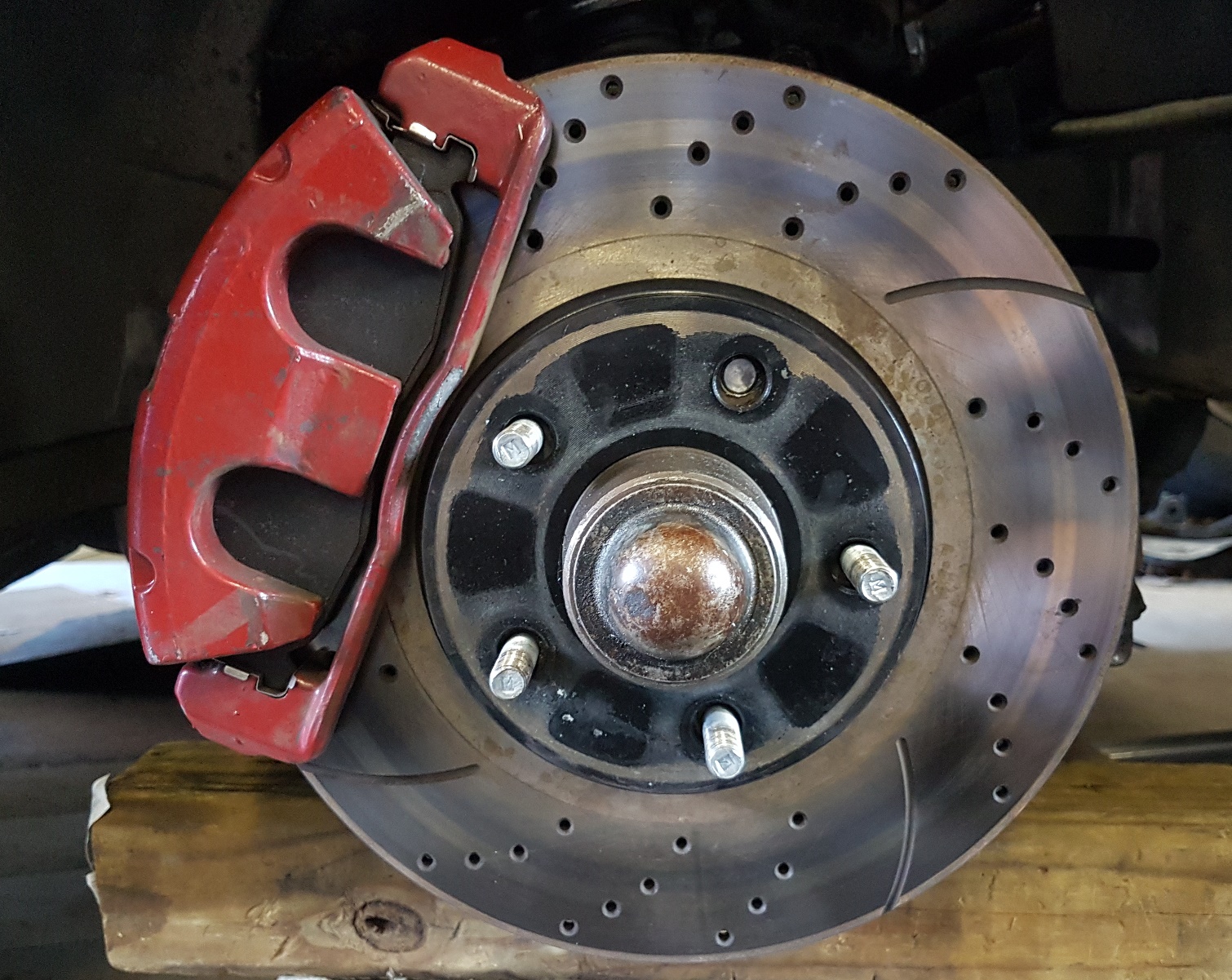 Here are My new 1LE Stop Tech Rotors that will be going on the B-Body Spindles: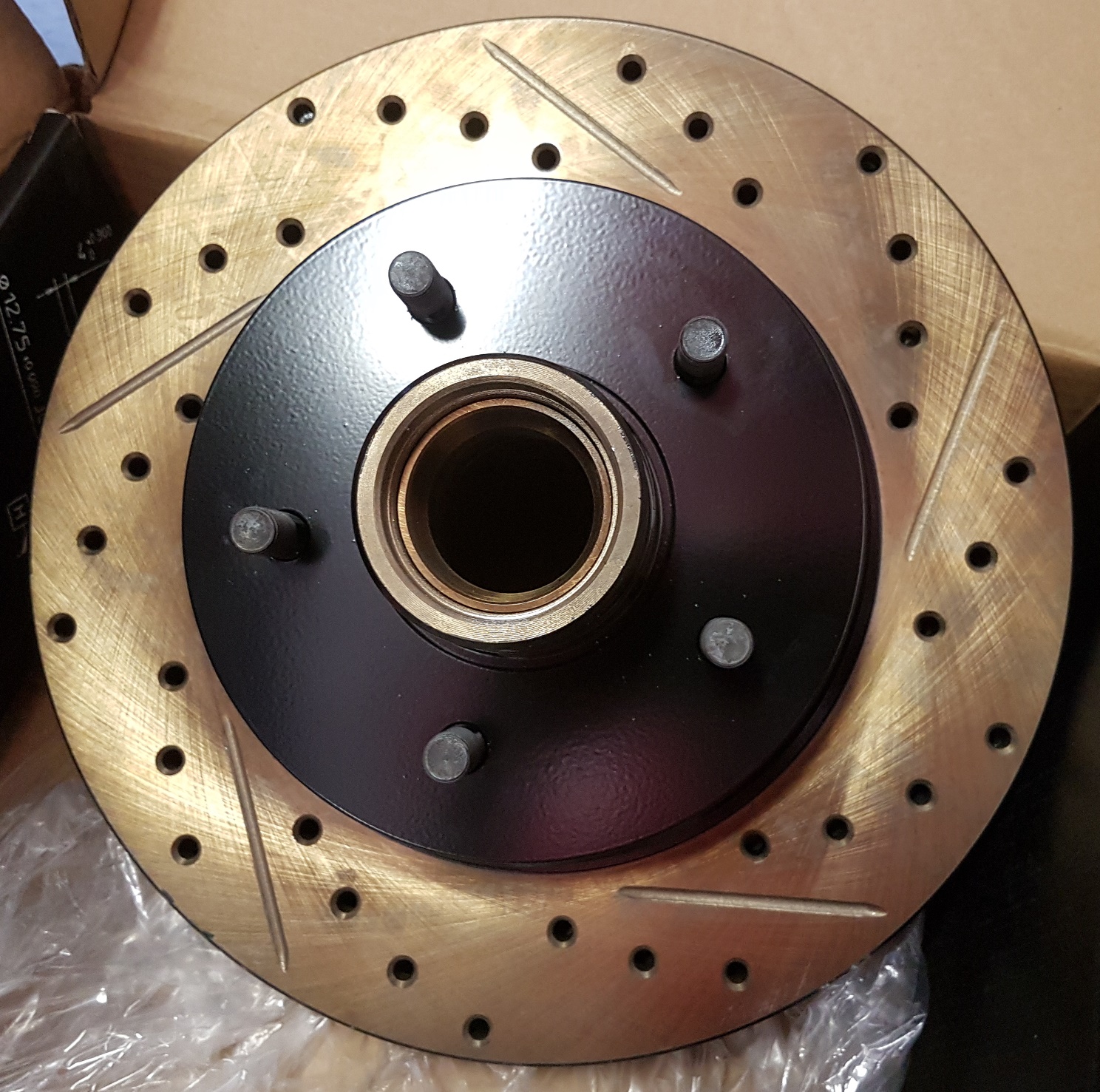 Last edited: