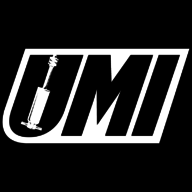 Master Mechanic
GBodyForum Sponsor
These revised anodized black ultra heavy duty machined sway bar brackets from UMI Performance are the cherry on top of your suspension.
Machined in-house, these brackets reduce flex which allows your sway bar to do its job efficiently. They come with either Red or Black grease-able polyurethane bushings for a long life.
Available for most popular applications and sway bar sizes, they will work great and look good doing it.
For more information, hop on
UMIPerformance.com