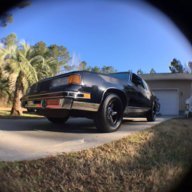 Kwik_Cutty88
Moderator
Moderator
Location: Concord, NC
I'm trying to help a buddy get rid of two Cutlass's he has. If you're interested in more details, I can PM you his phone number.
He's looking to get in the neighborhood of
$4,000
for the pair.
They are decent project cars.
1985 Cutlass
The car is partially disassembled right now, he has a lot of the parts.
Engine/Transimission:
Fires right up, but won't idle right now. It's been sitting for about a year and a half
350 Rocket motor bored .030 over
TRW forged pistons
type 5 heads
11.5 to 1 compression,
full MSD ignition with soft touch
Pro Systems billet aluminum carb
Turbo 400 transmission, Full manual reverse valve body, 4200 RPM stall converter
Dual Electric Fans
Chassis/Syspension:
8-Point Rollcage
15 Gallon Fuel Cell
Line Lock
Trunk Mounted Battery w/ Push/Pull Shutoff switch
Centerline Warrior Wheels Brand new tires. Fronts are skinnies. Rears are 275/60-15 MT Drag Radials.
strange engineering 12 bolt rear with 5/8" studs, spool and 4:11 gears.
Competition Engineering ladder bar suspension and coil overs.
Body:
Needs body work and paint finished.
Lauren engineering Hurst Olds wing.
Hurst Olds Black and Chrome Headlight bezels
4" cowl hood
Glasstek front and rear fiberglass bumpers
Hurst Olds Black and Chrome grills.
Interior:
Blue pillow top interior.
Brand new in the box interior carpet.
Auto-meter Tach, rest of gauges are electric Auto-meters
(the dart is NOT for sale)
1986 Cutlass
Clean NC title.
Runs and drives (has been sitting)
Olds 307, 2004R Transmission
Fairly clean body
Blue interior
Last edited: