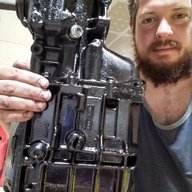 Pendejo
Supporting Member
So on my 83 Regal I'm switching to an 84+ header panel. Got one on craigslist from a guy in south Jersey for $200 along with a pair of fenders and front and rear bumpers.

Came with no hardware at all. I bought new headlight adjusters. But one thing I can't seem to find is the nylon nuts that the screws for the headlight bezels screw into.

I believe they're little square nylon nuts similar to the license plate nuts you can buy from parts stores only with a smaller hole?

Anybody found a source for these?