After searching far and wide for a pair of headers that fit the stock G-body El Camino, 305 ci (and likely Monte Carlo, etc.) I found a few people recommending headman headers. I now too will recommend them. This is my experience with them and my complete guide for anyone needing help. Overall these work and look great, and not difficult at all to install.
Review of the headers:
These are part number 68316 on Summit. They shipped here really quickly. These are pricey but as someone who has bought a lot of low buck eBay headers. You get what you pay for. These also come with a gasket but they do require cooper silicone. These are high-quality thick steel headers, with a nice shiny look. Years down the road when that shiny covering wears off, it'll take a long time for rust to eat through these. The install was easy as far as headers go.
Installation:
You'll want to start with washing your engine bay down, get all that built up on the side of the engine, and the pan off. If you don't you'll be having grease fall everywhere and the engine bay will look a lot nicer. The most important thing about the installation. THEY MUST BE INSTALLED FROM UNDER. There is no way to install this header from the top on either side. It is impossible but from underneath it's a breeze. I own a pair of the 12,000-pound plastic car ramps. But to install the passenger side I had to raise the car an additional foot.
Passenger Side:
Once the car is up I removed all the factory manifolds, (mine was cracked in half) The very back bolt had to be loosened from underneath and was by far the hardest bolt to remove. I also just cut the factory exhaust out with a Sawzall. Next, I removed the flywheel cover and dropped the starter. I decided to replace my starter because it is an extremely tight fit and I do not want to mess with my starter anytime soon. I removed all my spark plugs and wires. Next, I installed my passenger side header (I would recommend installing with the gasket in place and the silicone applied. DONT BOLT IT IN. Just get it into place maybe with one bolt in. Next wiggle the starter back into place. It is much easier to reattach the wires from the top side. (because the header isn't bolted in yet and you can push it out of your way.) Once everything is reattached I turn the engine to make sure the starter is properly spaced. After this bolt the header in.
Driver side:
This side was the easiest, just remove the old junk, and install the header from underneath. This one can come out and in really easily.
Spark plug wires:
The factory wires do not work with this header at all. Definitely buy all 90-degree spark plugs.
AC BRACKET:
this is where all the fun really began.... first off, my AC compressor is a long style, the directions that came with headers had a fix for the short style compressor. (You just cut your bottom bracket)
For us that have a long style, we can either fabricate or buy something. Head man headers recommend " Hedman's A/C bracket part #20110 "
In my case, I just worked with I had. I would have done it differently now. but it works.
This may not be the best way, or correct way to install headers. But it's what I did. It works,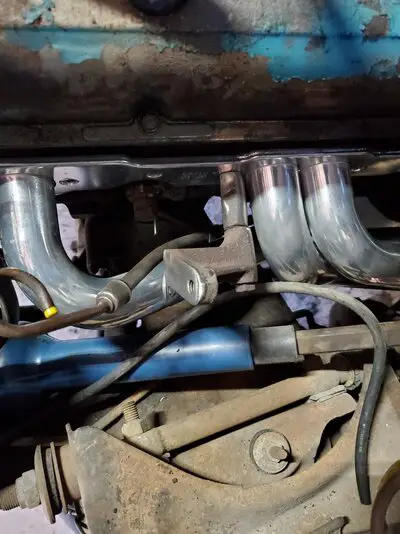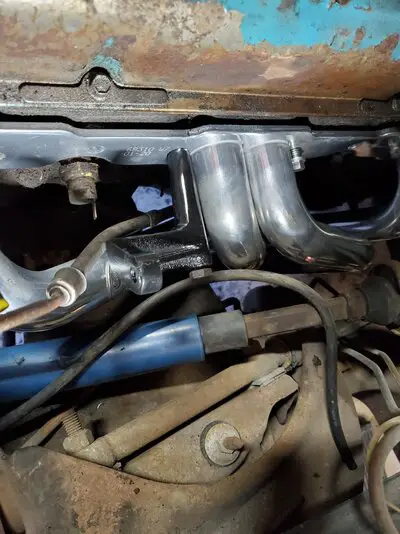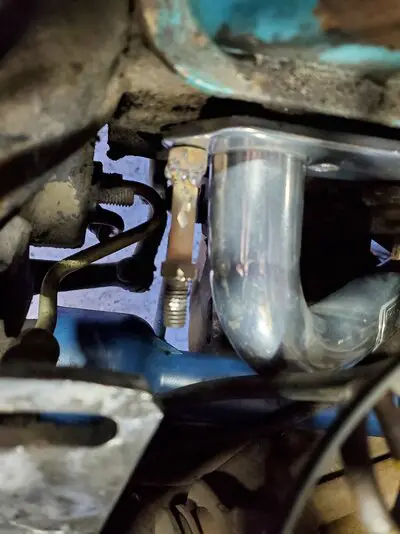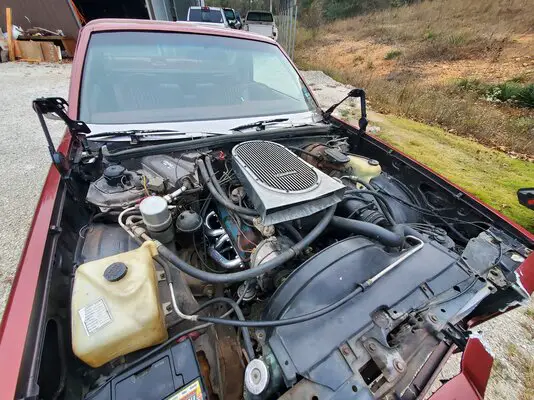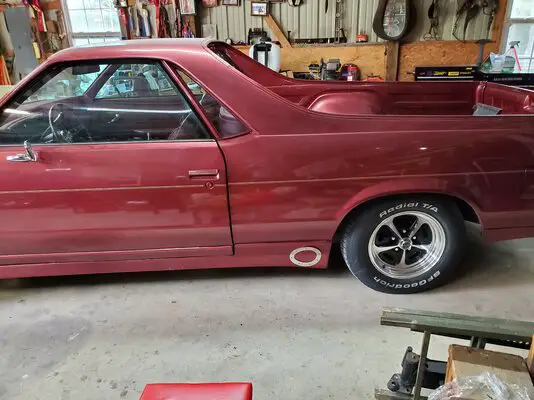 Take what you wish from this
Some photos of everything. (Plus a sneak peek of a side exit exhaust)