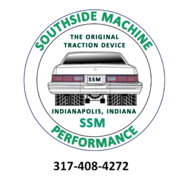 SOUTHSIDE MACHINE PERFORMANCE
GBodyForum Sponsor
Hello, Just wanted to thank you again for choosing us to help you with your build. We have had lots of changes in 2019. From a larger more efficient building, new employees, our new powder coat facility and and of course all the hot new products!
We also have a new CNC Plasma table to cut about anything you need.
Custom 4 link kits too!
We have a full fabrication shop and would love to be a part of your current or next project.
We are offering free labor to rebuild your old parts. Yes, you heard that correctly. This is a 90 day program and will be in place until January 2020.
Contact the shop. (call please)
Send us your old parts.
We will tear them down, fully inspect, replace any worn bushings and then sandblast and apply powder coating for great looks and a lifetime of protection against the elements.
Looking for a 7 day flip rate.
We will provide free return shipping.
$30 will do 2 rear arms.
$50 will do 4 rear arms.
New products for the G Body , S-10 and the Chevelle guys (A-Body) include...
Tall Pro Touring negative roll front spindle and adjustable front upper A arms.
Rear frame notch kit
Ford Explorer 8.8" rear end swap just to name a few.