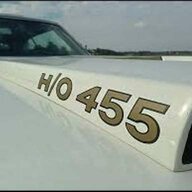 69hurstolds
Comic Book Super Hero
Supporting Member
Rktpwrd's build thread reply about "restoration" and "replacementification" got me to thinking. How did I get started with this G-body addiction? I guess for me, it actually got started with the 82 Calais. I was leaning to an 82 Calais, two tone, nonetheless, but I never pulled the trigger. No, they weren't fast. But the sleek body style was a big draw for me. Comfy seats too. T-tops. Nice cars. I ended up buying a new 82 Z28 instead. I always liked Camaros, too. I'm bi that way.
That was a flip flop about 40 times until I landed on the Z28. It simply handled better. The power was about the same.
There was a day if I wanted to restore a car, it was junkyard/Hemming's searches for original or new GM parts/Dealership for new GM parts which were usually scarce/or lucked up and found someone with one. There were no interwebs forums or ebay. You had a phone (on the wall with push buttons at best, no touch screen or facetime) and a Drag Times want ads or Hemming's brown book and a small network of friends if you were lucky. Then if it was a hard to find part, you had to wait for pictures to be mailed (no interwebs) and then decide, if someone hadn't already snagged it by then. The car magazines MAYBE would have something you could use as far as articles. In the 80s, you pretty much HAD to restore an old car.
When was the last time you picked up a 70 W-30 rust/dent-free trunklid for $20 at the wrecking yard (they're special- have no insulation in them)? Or the matching OAI hood for another $75 and trade that for a tilt column? Was easy back then. Most of the time, you got to drag your tool bag around each car and take off the parts you wanted. I was always careful not to destroy stuff though while getting my parts for the next guy who might need that other part. Not happening today. When I started on restification of my semi-rare 72 442 3-on-the-floor back in 1983, it was that way. You dug it up, or you restored what you had. Granted, there was more out there for 70-72 2 door Cutlass back then, and if you wanted a new G-body, you could go down to the dealer and buy one. I learned then that crap was tough to get hold of, and I wish the dealerships had more new GM stuff to pick from.
The 83 H/O was such a sharp car. I was out to sea when they announced them, but caught up with them. Couldn't find one locally. Then the 84s were announced. Silver wasn't a happy color for me, but it wasn't bad. It's not like these cars were laying around everywhere in the day. I was hesitant to order, and my sea/shore rotation wouldn't get me the car in time anyway, so figured if I found one on the lot, I'd just do that. That didn't happen until the spring of 84, and my dad, who worked at Corvette at the time, told me about the 442's return. He had no specs, just that Olds was resurrecting the car for 1985. That really got me interested.
Dealer didn't know anything about it in the spring of 85. I still wanted one. They said if it was anything like the H/O, not every dealer would get one, and one may be the amount they got based on sales. I tried to put down a deposit. They wouldn't because they had nothing to go on. Later near summer, the Sales Manager called me and said I was right. They were unleashing it for 85. So when I got back from sea tour, I put 100 bucks down and ordered me an 85 442 when the dealership could first send in orders for the 85 model year. The dealership was only slated to receive 1 allocated unit. But somehow they traded for another dealer's allocation and ended up with 2 because someone else wanted one. Although I didn't get any discount, the dealership didn't do any market markups either. Wasn't their policy. This was good. I still spent nearly $17K for a $10K base price car. And in those days, car loans were high as heck.