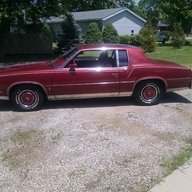 DoubleV
Royal Smart Person
Just got back from a week in California ( West Hollywood to be exact ) where my girlfriend lives. My God, how do you guys live there?! Seriously?

Parking is atrocious. Traffic is a joke. Prices are ridiculous. Trying to do anything is a major chore. I'm SOOO glad to be back home in rural Ohio!

Yeah the weather's great there and I personally hate the snow but this winter I'll be happily outside making snow angels naked knowing I don't live in or anywhere near LA!

BTW, number of classic cars I've seen during my week there; zero. Yep ZERO! But hey why have a classic car in LA anyway considering you can't drive it more than 30mph due to traffic and you have to keep it parked on the street all the time. For almost $5 for 'premium' gas, I suppose it's for the best.....